Honda Fit: Previous Destinations

DEST button
► Previous Destinations
Select an address from a list of your 50 most recent destinations to use as the destination. The list is displayed with the most recent destination at the top.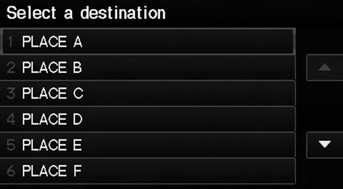 1. Select a destination from the list.
2. Set the route to your destination.
Your home addresses and addresses stored in your address book are not added to the list of previous destinations.
You can delete unwanted previous destinations from the list.
See also:
Charging the Battery
Disconnect both battery cables to prevent damaging your vehicle's electrical system. Always disconnect the negative (–) cable first, and reconnect it last. ...
Command Input
If the system does not understand a command or you wait too long to give a command, it responds with "Pardon? No command was heard. Please press the talk button and say a command." When you giv ...
Hands Free Link Control Unit Input Test/Replacement
With navigation Remove the driver's dashboard undercover. Disconnect the 32P connector (A) from the HandsFreeLink control unit (B). Inspect the connector and so ...