Honda Fit: Previous Destinations

DEST button
► Previous Destinations
Select an address from a list of your 50 most recent destinations to use as the destination. The list is displayed with the most recent destination at the top.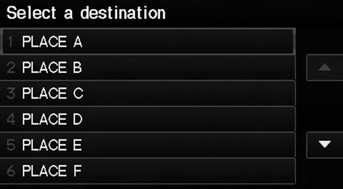 1. Select a destination from the list.
2. Set the route to your destination.
Your home addresses and addresses stored in your address book are not added to the list of previous destinations.
You can delete unwanted previous destinations from the list.
See also:
Fuel Line Inspection
Check the fuel system lines and hoses for damage, leaks, and deterioration. Replace any damaged parts. Check all clamps, and make sure they are properly positioned and tightened. ...
Recommended Engine Oil
• Genuine Honda Motor Oil • Premium-grade 0W-20 detergent oil with an API Certification Seal on the container. Oil is a major contributor to your engine's performance and longevity. If you ...
Emergency Towing
Call a professional towing service if you need to tow your vehicle. ■ Flat bed equipment The operator loads your vehicle on the back of a truck. This is the best way to transport your veh ...