Honda Fit: Previous Destinations

INFO button
► Setup ►Personal Information►Previous Destinations
The navigation system maintains a list of your previously routed destinations as a shortcut for entering the same destination in the future. You can delete some or all of your previous destinations from the list.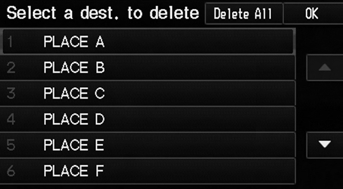 1. Select the destination to delete.
► Repeat the procedure as necessary.
► Items to be deleted are indicated with a trash icon.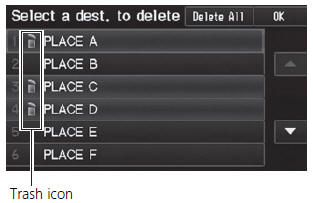 2. Select OK to delete the selected destinations.
Up to 50 destinations can be stored.
The list of previous destinations is shared with User 1 and User 2. For example, if User 1 deletes some previous destinations, they are deleted for User 2 as well.
To cancel the selection of a previous destination, select the destination again.
Selecting Delete All allows you to delete all destinations.
See also:
Front Door Sash Outer Trim Replacement
NOTE: Take care not to scratch the door or related parts. Remove the door sash outer trim (A). Remove the screw from inside the door. Release the lower edge of the tr ...
Cylinder Head Installation
Clean the cylinder head and the engine block surface. Install a new coolant separator (A) in the engine block whenever the engine block is replaced. Install a new ...
Shift Solenoid Valve Removal and Installation (A/T)
NOTE: Do not hold the solenoid valve connector to remove and install the solenoid valve. Be sure to hold the solenoid valve body. Remove the mounting bolts, then remove the solenoid valves by ...