Honda Fit: Previous Destinations

INFO button
► Setup ►Personal Information►Previous Destinations
The navigation system maintains a list of your previously routed destinations as a shortcut for entering the same destination in the future. You can delete some or all of your previous destinations from the list.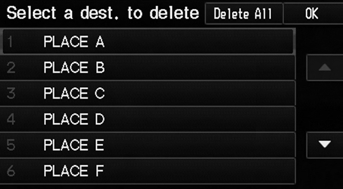 1. Select the destination to delete.
► Repeat the procedure as necessary.
► Items to be deleted are indicated with a trash icon.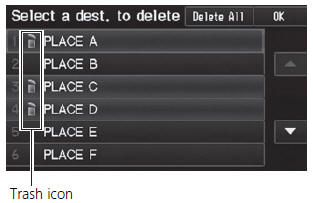 2. Select OK to delete the selected destinations.
Up to 50 destinations can be stored.
The list of previous destinations is shared with User 1 and User 2. For example, if User 1 deletes some previous destinations, they are deleted for User 2 as well.
To cancel the selection of a previous destination, select the destination again.
Selecting Delete All allows you to delete all destinations.
See also:
Pairing a Phone
PHONE button When no Bluetooth-compatible phone has ever been paired to the system, the following screen appears: 1. Select Yes. 2. Put your cell phone in "Discovery" or "Search" mode. ...
Editing a Voice Tag
PHONE button ► Speed Dial 1 or Speed Dial 2 1. Select a speed dial entry. 2. Select Edit Speed Dial. 3. Select Voice Tag. 4. Select an item. The following items are available: • Pl ...
Main Valve Body Disassembly, Inspection, and Reassembly (A/T)
Clean all parts thoroughly in solvent, and dry them with compressed air. Blow out all passages. Do not use a magnet to remove the check balls, it may magnetize the check balls. ...