Honda Fit: Previous Destinations

INFO button
► Setup ►Personal Information►Previous Destinations
The navigation system maintains a list of your previously routed destinations as a shortcut for entering the same destination in the future. You can delete some or all of your previous destinations from the list.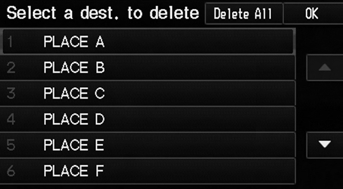 1. Select the destination to delete.
► Repeat the procedure as necessary.
► Items to be deleted are indicated with a trash icon.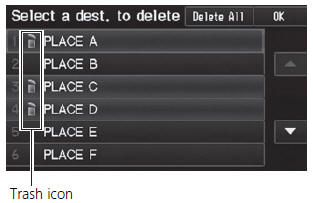 2. Select OK to delete the selected destinations.
Up to 50 destinations can be stored.
The list of previous destinations is shared with User 1 and User 2. For example, if User 1 deletes some previous destinations, they are deleted for User 2 as well.
To cancel the selection of a previous destination, select the destination again.
Selecting Delete All allows you to delete all destinations.
See also:
Playing an iPod®
■Connecting an iPod® 1. Unclip the USB connector in the center console and loosen the adapter cable. 2. Install the iPod® dock connector to the USB connector. • Do not use an extensio ...
Security System Alarm
The security system alarm activates when the doors, tailgate, or hood are opened without the key, or remote transmitter. ■ When the security system alarm activates The horn sounds intermitt ...
Installing a Child Seat
After selecting a proper child seat and a good place to install the seat, there are three main steps in installing the seat: 1. Properly secure the child seat to the vehicle. All child seats must ...