Honda Fit: Start-up
The navigation system starts automatically when you turn the ignition to ACCESSORY (I) or ON (II). At start-up, the following Confirmation screen is displayed.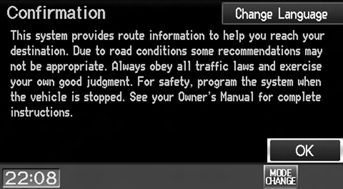 1. Select Change Language.
► If you do not need to change the system language, proceed to step 3.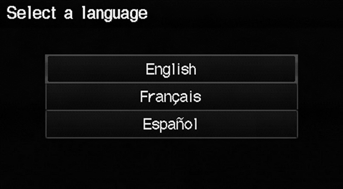 2. Select the system language.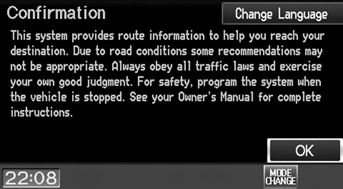 3. Select OK.
► Your current position is displayed on the map screen.
If the navigation system loses power at any time, you may need to press and hold the VOL 9 (Volume/Power) button for more than two seconds, or you may be prompted for the 5-digit security code.
You can change the system language at any time.
"OK" on the Confirmation screen cannot be selected by using a voice command. If you do not select OK within 30 seconds, the screen turns dark and you cannot use voice commands. Press any navigation or voice control button to continue.
Limitations for Manual Operation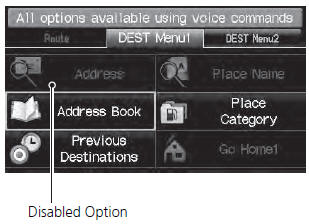 Certain manual functions are disabled or inoperable while the vehicle is in motion. You cannot select a grayedout option until the vehicle is stopped.
Voice commands are still operable while the vehicle is in motion.
See also:
Transmission End Cover Transmission Fluid Pressure Switch Replacement (A/T)
Remove the transmission fluid pressure switch A (2nd clutch) (A). Make sure there is no water, oil, dust, or foreign particles inside the connector. Install the new tr ...
Preparing to Drive
You should do the following checks and adjustments before you drive your vehicle. 1. Make sure all windows, mirrors, and outside lights are clean and unobstructed. Remove frost, snow, or ice. 2. C ...
Instrument Panel Indicators
The instrument panel has many indicators that give you important information about your vehicle. Malfunction Indicator Lamp Low Oil Pressure Indicator The engine can be severely damaged if th ...