Honda Fit: Start-up
The navigation system starts automatically when you turn the ignition to ACCESSORY (I) or ON (II). At start-up, the following Confirmation screen is displayed.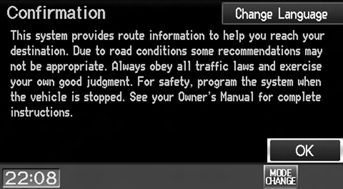 1. Select Change Language.
► If you do not need to change the system language, proceed to step 3.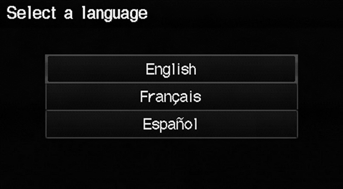 2. Select the system language.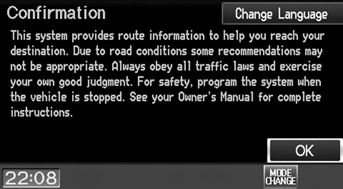 3. Select OK.
► Your current position is displayed on the map screen.
If the navigation system loses power at any time, you may need to press and hold the VOL 9 (Volume/Power) button for more than two seconds, or you may be prompted for the 5-digit security code.
You can change the system language at any time.
"OK" on the Confirmation screen cannot be selected by using a voice command. If you do not select OK within 30 seconds, the screen turns dark and you cannot use voice commands. Press any navigation or voice control button to continue.
Limitations for Manual Operation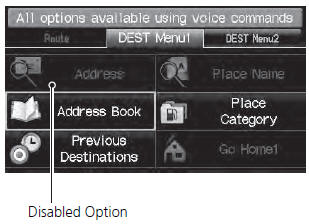 Certain manual functions are disabled or inoperable while the vehicle is in motion. You cannot select a grayedout option until the vehicle is stopped.
Voice commands are still operable while the vehicle is in motion.
See also:
AM/FM Radio Reception
Radio Frequencies The radio can receive the complete AM and FM bands. Those bands cover these frequencies: AM band: 530 to 1,710 kHz FM band: 87.7 to 107.9 MHz Radio stations on the AM band are a ...
Fuel Line/Quick-Connect Fitting Precautions
The fuel line/quick-connect fittings (A, B, C, D, E, F, G, H, I, J, K and L) connect the fuel rail (M) to fuel feed hose (N), the fuel feed hose to the fuel line (O), the fuel feed line (P) to the ...
Safety Labels
Label Locations These labels are in the locations shown. They warn you of potential hazards that can cause serious injury or death. Read these labels carefully. If a label comes off o ...