Honda Fit: Start-up
The navigation system starts automatically when you turn the ignition to ACCESSORY (I) or ON (II). At start-up, the following Confirmation screen is displayed.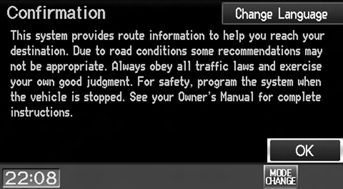 1. Select Change Language.
► If you do not need to change the system language, proceed to step 3.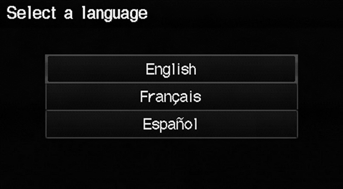 2. Select the system language.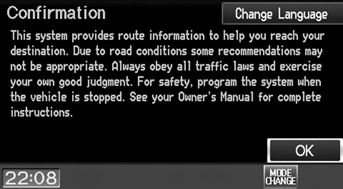 3. Select OK.
► Your current position is displayed on the map screen.
If the navigation system loses power at any time, you may need to press and hold the VOL 9 (Volume/Power) button for more than two seconds, or you may be prompted for the 5-digit security code.
You can change the system language at any time.
"OK" on the Confirmation screen cannot be selected by using a voice command. If you do not select OK within 30 seconds, the screen turns dark and you cannot use voice commands. Press any navigation or voice control button to continue.
Limitations for Manual Operation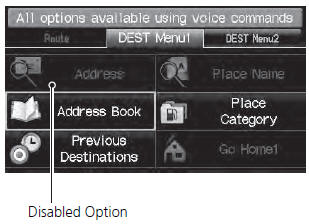 Certain manual functions are disabled or inoperable while the vehicle is in motion. You cannot select a grayedout option until the vehicle is stopped.
Voice commands are still operable while the vehicle is in motion.
See also:
Countershaft Disassembly (M/T)
NOTE: Refer to the Exploded View in the countershaft reassembly, as needed, when removing components pressed onto the countershaft. Securely clamp the countershaft assembly in a bench vise wi ...
How to Use This Manual
This section explains different methods on how you can easily find information in this manual. Searching the Table of Contents Two types of Tables of Contents help you find your desired informati ...
Changing a Flat Tire
If a tire goes flat while driving, grasp the steering wheel firmly, and brake gradually to reduce speed. Then, stop in a safe place. Replace the flat tire with a compact spare tire. Go to a deal ...