Honda Fit: Protecting Children General Guidelines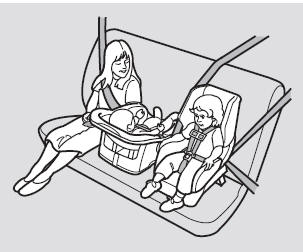 Children depend on adults to protect them. However, despite their best intentions, many adults do not know how to properly protect child passengers.
If you have children, or ever need to drive with a child in your vehicle, be sure to read this section. It begins with important general guidelines, then presents special information for infants, small children, and larger children.
All Children Must Be Restrained
Each year, many children are injured or killed in vehicle crashes because they are either unrestrained or not properly restrained. In fact, vehicle accidents are the number one cause of the death of children aged 12 and under
To reduce the number of child deaths and injuries, every state and Canadian province requires that infants and children be properly restrained when they ride in a vehicle.
Infants and small children must be restrained in an approved child seat that is properly secured to the vehicle.

Children who are unrestrained or improperly restrained can be seriously injured or killed in a crash.
Any child too small for a seat belt should be properly restrained in a child seat. A larger child should be properly restrained with a seat belt and use a booster seat if necessary.
Larger children must be restrained with a lap/shoulder belt and ride on a booster seat until the seat belt fits them properly.
All Children Should Sit in a Back Seat
According to accident statistics, children of all ages and sizes are safer when they are restrained in a back seat. The National Highway Traffic Safety Administration and Transport Canada recommend that all children aged 12 and under be properly restrained in a back seat.
Some states have laws restricting where children may ride.
Children who ride in back are less likely to be injured by striking interior vehicle parts during a collision or hard braking. Also, children cannot be injured by an inflating front airbag when they ride in the back.
The Passenger's Front Airbag Can Pose Serious Risks
Front airbags have been designed to help protect adults in a moderate to severe frontal collision. To do this, the passenger's front airbag is quite large, and it can inflate with enough force to cause very serious injuries.
Even though your vehicle has an advanced front airbag system that automatically turns the passenger's front airbag off , please follow these guidelines:
Infants
Never put a rear-facing child seat in the front seat of a vehicle equipped with a passenger's front airbag.
If the airbag inflates, it can hit the back of the child seat with enough force to kill or very seriously injure an infant.
Small Children
Placing a forward-facing child seat in the front seat of a vehicle equipped with a passenger's front airbag can be hazardous.
If the vehicle seat is too far forward, or the child's head is thrown forward during a collision, an inflating front airbag can strike the child with enough force to kill or very seriously injure a small child.
Larger Children
Children who have outgrown child seats are also at risk of being injured or killed by an inflating passenger's front airbag.
Whenever possible, larger children should sit in the back seat, on a booster seat if needed, and be properly restrained with a seat belt.
To remind you of the passenger's front airbag hazards, and that children must be properly restrained in a back seat, your vehicle has warning labels on the dashboard (U.S. models) and on the front visors.
Please read and follow the instructions on these labels.
U.S. Models
SUN VISORS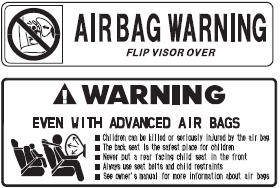 DASHBOARD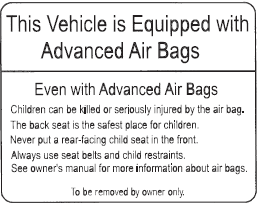 Canadian Models
SUN VISORS

If YouMust Drive with Several Children
Your vehicle has a back seat where children can be properly restrained.
If you ever have to carry a group of children, and a child must ride in front:
• Place the largest child in the front seat, provided the child is large enough to wear the lap/shoulder belt properly.
• Move the vehicle seat as far to the rear as possible.
• Have the child sit upright and well back in the seat.
• Make sure the seat belt is properly positioned and secured
If a Child Requires Close Attention
Many parents say they prefer to put an infant or a small child in the front passenger seat so they can watch the child, or because the child requires attention.
Placing a child in the front seat exposes the child to hazards in a frontal collision, and paying close attention to a child distracts the driver from the important tasks of driving, placing both of you at risk.
If a child requires close physical attention or frequent visual contact, we strongly recommend that another adult ride with the child in a back seat. The back seat is far safer for a child than the front.
Additional Safety Precautions
• Never hold an infant or child on your lap.
If you are not wearing a seat belt in a crash, you could be thrown forward and crush the child against the dashboard or a seat-back. If you are wearing a seat belt, the child can be torn from your arms and be seriously hurt or killed.
• Never put a seat belt over yourself and a child.
During a crash, the belt could press deep into the child and cause serious or fatal injuries.
• Never let two children use the same seat belt.
If they do, they could be very seriously injured in a crash.
• Make sure any unused seat belt that a child can reach is buckled, the lockable retractor is activated, and the belt is fully retracted and locked.
If a child wraps a loose seat belt around their neck, they can be seriously or fatally injured.
• Use the childproof door locks to prevent children from opening the rear doors.
This can prevent children from accidentally falling out.
• Do not leave children alone in a vehicle.
Leaving children without adult supervision is illegal in most states and Canadian provinces, and can be very hazardous.
For example, infants and small children left in a vehicle on a hot day can die from heatstroke. A child left alone with the key in the ignition switch can accidentally set the vehicle in motion, possibly injuring themselves or others.
• Lock all doors and the tailgate when your vehicle is not in use.
Children who play in vehicles can accidentally get trapped inside.
Teach your children not to play in or around vehicles.
• Keep vehicle keys/remote transmitters out of the reach of children.
Even very young children learn how to unlock vehicle doors, turn on the ignition switch, and open the tailgate, which can lead to accidental injury or death.
See also:
Wheels
Clean the wheels as you would the rest of the exterior. Wash them with the same solution, and rinse them thoroughly. If equipped Aluminum alloy wheels have a protective clear-coat that keeps the a ...
Brake and Clutch Fluid
Check the brake fluid level in the reservoirs monthly. Replace the brake fluid according to the time recommendation in the maintenance minder schedule. Always use Honda Heavy Duty Brake Fluid DOT ...
Clutch Clearance Inspection (A/T)
Special Tools Required Clutch Compressor Attachment 07ZAE-PRP0100 Inspect the clutch piston, the discs, the plates, and the end-plate for wear and damage, and inspect the clutch wav ...