Honda Fit: Authorized Manuals
■ Service Express
For electronic copies of service publications, you can purchase a subscription to Service Express. Visit www.techinfo.honda.com for pricing and options.
■ For U.S. Owners:
The publications listed below can be purchased from Helm Incorporated. You can order a manual by phone at (800) 782-4356 (credit card orders only), or online at www.helminc.com.
Make an inquiry to Helm Inc. at (800) 782-4356 if you are interested in ordering other models' or other years' manuals.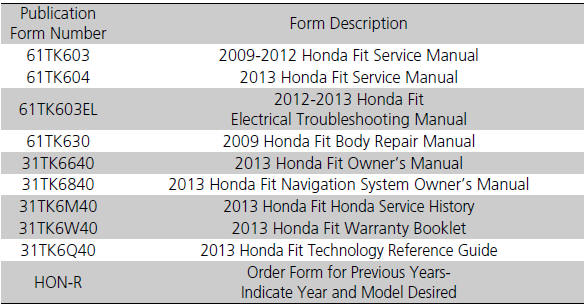 Service Manual:
Covers maintenance and recommended procedures for repair to engine and chassis components. It is written for the journeyman technician, but it is simple enough for most mechanically inclined owners to understand.
Electrical Troubleshooting Manual:
Complements the Service Manual by providing indepth troubleshooting information for each electrical circuit in your vehicle.
Body Repair Manual:
Describes the procedures involved in the replacement of damaged body parts.
For Canadian Owners:
Si vous avez besoin d'un Manuel du Conducteur en français, veuillez demander à votre concessionnaire de commander le numéro de pièce 33TK6C40
See also:
Vehicle
INFO button ► Setup ►Other ►Vehicle Set the off-road tracking feature and correct the vehicle position displayed on the map. Select an item. The following items are availa ...
Dashboard Vent Removal/Installation
Side Vent Click here for an interactive version of this procedure (driver's, passenger's). NOTE: Take care not to scratch the dashboard or its related parts. Pull the upper portion ( ...
Map Coverage
The navigation system provides map coverage for the contiguous United States, Alaska, Hawaii, Canada, and Puerto Rico. The map coverage consists of accurately mapped (verified) metropolitan area ...