Honda Fit: Oil Check
We recommend that you check the engine oil level every time you refuel.
Park the vehicle on level ground.
Wait approximately three minutes after turning the engine off before you check the oil.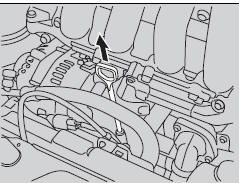 1. Remove the dipstick (orange loop).
2. Wipe the dipstick with a clean cloth or paper towel.
3. Insert the dipstick back all the way into its hole.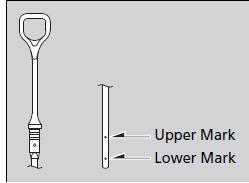 4. Remove the dipstick again, and check the level. It should be between the upper and lower marks. Add oil if necessary.
If the oil level is near or below the lower mark, slowly add oil being careful not to overfill.
See also:
Checking Tires
To safely operate your vehicle, your tires must be of the proper type and size, in good condition with adequate tread, and properly inflated. ■ Inflation guidelines Properly inflated tire ...
Carrying Cargo
Your vehicle has several convenient storage areas: • Glove box • Front door pockets • Seat-back pocket • Center pocket • Cargo area side pocket • Cargo area, including the rear sea ...
Transmission End Cover Transmission Fluid Pressure Switch Replacement (A/T)
Remove the transmission fluid pressure switch A (2nd clutch) (A). Make sure there is no water, oil, dust, or foreign particles inside the connector. Install the new tr ...