Honda Fit: Brake System
Parking Brake
Use the parking brake to keep the vehicle stationary when parking.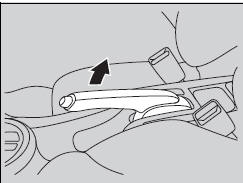 To apply:

Pull the lever fully up without pressing the release button.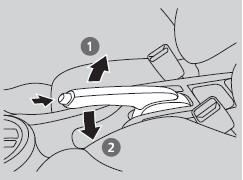 To release:

1. Pull the lever slightly, and press and hold the release button.
2. Lower the lever down all the way, then release the button.
NOTICE
Release the parking brake fully before driving. The rear brakes and axle can be damaged if you drive with the parking brake applied.
If you start driving without fully releasing the parking brake, a buzzer sounds as a warning.
Always apply the parking brake when parking.
Foot Brake
Your vehicle is equipped with front disc brakes. The brakes on the rear wheels may be disc or drum, depending on the model. A vacuum power assist helps reduce the effort needed on the brake pedal. The brake assist system increases the stopping force when you depress the brake pedal hard in an emergency situation. The antilock brake system (ABS) helps you retain steering control when braking very hard.
Check the brakes after driving through deep water, or if there is a buildup of road surface water. If necessary, dry the brakes by lightly depressing the pedal several times.
If you hear a continuous metallic friction sound when applying the brakes, the brake pads need to be replaced. Have the vehicle checked by a dealer.
Constantly using the brake pedal while going down a long hill builds up heat, which reduces the brake effectiveness. Apply engine braking by taking your foot off the accelerator pedal and downshifting to a lower gear. With manual transmission use a lower gear for greater engine braking.
Do not rest your foot on the brake pedal while driving, as it will lightly apply the brakes and cause them to lose effectiveness over time and reduce pad life. It will also confuse drivers behind you.
See also:
Mainshaft Reassembly (M/T)
Exploded View Special Tools Required Driver Handle, 40 mm I.D. 07746-0030100 Bearing Driver Attachment, 30 mm I.D. 07746-0030300 NOTE: Refer to the Exploded Viewas neededduring this proc ...
Mirrors
Keep the inside and outside mirrors clean and adjusted for best visibility. Be sure to adjust the mirrors before you start driving. The inside mirror has day and night positions. The night positio ...
Navigation
You can select any place/landmark as a destination by using voice control or the touch screen. The navigation system gives you turn-by-turn driving directions to your destination. Store home add ...