Honda Fit: Using Speed Dial
PHONE button
► Speed Dial 1 or Speed Dial 2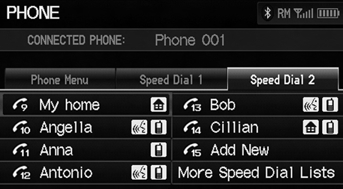 1. Select a speed dial entry.
2. Select Call to begin dialing.
To make a call using speed dial, you need to create speed dial entries.
More Speed Dial Lists
You can make a call by using more speed dials on the other phones.
1. Select another paired phone in the list.
2. Select a speed dial entry.
3. Select Call to begin dialing.
If the other phone is PIN-protected, enter the PIN when prompted. Select OK. PINs are optional.
See also:
Audio Screen Control
AUDIO button (in iPod® mode) Control the audio screen through the navigation system. Select a track. Select the menu tab to change songs in the track list. The following items are ava ...
Camshaft Inspection
Remove the camshaft sprocket. Remove the rocker arm assembly, then disassemble the rocker arm. Put the rocker shaft holder bridge on the cylinder head, then tight ...
Connecting Rod and Crankshaft End Play Inspection
Remove the oil pump. Measure the connecting rod end play with a feeler gauge (A) between the connecting rod (B) and the crankshaft (C). Connecting Rod End Play ...