Honda Fit: Using Call History
PHONE button
► Call History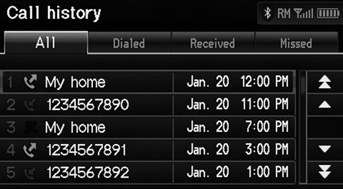 1. Select a call.
 Select All, Dialed, Received, Missed to view the call history by category.
2. Select Call to begin dialing.
The call history shows the last 20 calls from your phone.
See also:
Engine Assembly Torque Rod Bracket Replacement
Raise the vehicle on the lift. A/T model: Remove the shift cable cover. Support the transmission with a transmission jack and a wood block under the transmission a ...
Driving to Your Destination
This section describes how to follow the route guidance to your destination, and choose the icons displayed on the map screen. ...
Fuel Information
■ Fuel recomme Unleaded gasoline, pump octane number 87 or higher Use of lower octane gasoline can cause a persistent, heavy metallic knocking noise that can lead to engine damage. ■ ...