Honda Fit: Using Call History
PHONE button
► Call History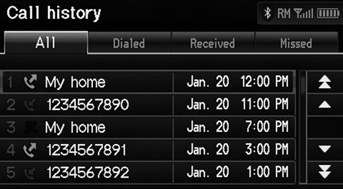 1. Select a call.
 Select All, Dialed, Received, Missed to view the call history by category.
2. Select Call to begin dialing.
The call history shows the last 20 calls from your phone.
See also:
Maintenance
This section explains why it is important to keep your vehicle well maintained and how to follow basic maintenance safety precautions. This section also includes instructions on how to read the mai ...
ATF Cooler Hose Replacement (A/T)
Drain the automatic transmission fluid (ATF). Install the ATF cooler hoses over the ATF cooler lines, and secure the hoses with the clips in the details (A), (B), (C), and (D) ...
Address Book
DEST button ► Address Book Select an address stored in your address book to use as the destination. 1. Select your user name. 2. Select your destination from the list. 3. Set the rout ...