Honda Fit: Rear License Plate Light Bulb
When replacing, use the following bulb.
Rear License Plate Light: 5 W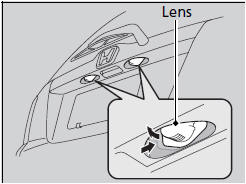 1. Push the lens on the left and pull out the lens and the socket attached to it.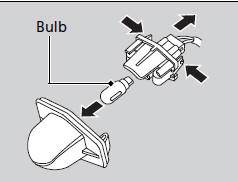 2. Remove the license plate light assembly by squeezing the tabs on both sides of the socket.
3. Remove the old bulb and insert a new bulb.
See also:
Flywheel Inspection
Remove the ring gear holder. Inspect the ring gear teeth for wear and damage. Inspect the clutch disc mating surface on the flywheel for wear, cracks, and burning. ...
GPS System
The signals received from the GPS satellites are extremely weak (less than a millionth of the strength of a local FM station) and require an unobstructed view of the sky. The GPS antenna is loca ...
Rear Door Panel Removal/Installation
Special Tools Required KTC Trim Tool Set SOJATP2014 Trim Pad Remover Snap-on A 177A or equivalent, commercially available *Available through the Honda Tool and Equipment Program; call 888-4 ...