Honda Fit: Rear License Plate Light Bulb
When replacing, use the following bulb.
Rear License Plate Light: 5 W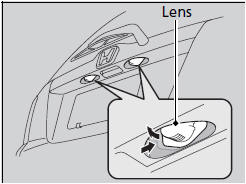 1. Push the lens on the left and pull out the lens and the socket attached to it.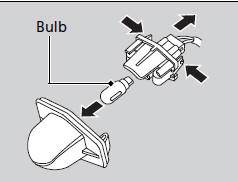 2. Remove the license plate light assembly by squeezing the tabs on both sides of the socket.
3. Remove the old bulb and insert a new bulb.
See also:
Transmission End Cover Transmission Fluid Pressure Switch Replacement (A/T)
Remove the transmission fluid pressure switch A (2nd clutch) (A). Make sure there is no water, oil, dust, or foreign particles inside the connector. Install the new tr ...
A FewWordsAbout Safety
Your safety, and the safety of others, is very important. And operating this vehicle safely is an important responsibility. To help you make informed decisions about safety, we have provided operat ...
Center Console Removal/Installation
Special Tools Required KTC Trim Tool Set SOJATP2014 *Available through the Honda Tool and Equipment Program; call 888-424-6857 Click here for an interactive version of this procedure (M ...