Honda Fit: Rear License Plate Light Bulb
When replacing, use the following bulb.
Rear License Plate Light: 5 W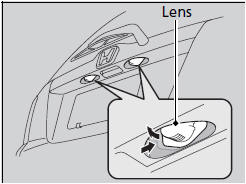 1. Push the lens on the left and pull out the lens and the socket attached to it.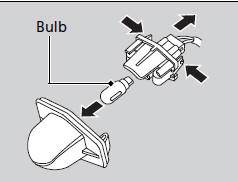 2. Remove the license plate light assembly by squeezing the tabs on both sides of the socket.
3. Remove the old bulb and insert a new bulb.
See also:
Camshaft Installation
Insert the camshaft (A). Apply new engine oil to the journals and the cam lobes. Install the CMP pulse plate. Install the CMP sensor. Install the r ...
Symbols
...
Rear Seat Leg Guide Replacement
Push the leg guide cover (A) to release the hook (B), then pull out the cover from the attaching plate (C) and the holder (D) of the leg guide (E). @font-fa ...