Honda Fit: Rear License Plate Light Bulb
When replacing, use the following bulb.
Rear License Plate Light: 5 W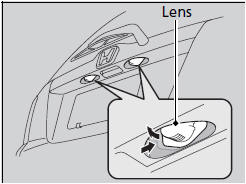 1. Push the lens on the left and pull out the lens and the socket attached to it.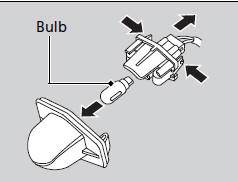 2. Remove the license plate light assembly by squeezing the tabs on both sides of the socket.
3. Remove the old bulb and insert a new bulb.
See also:
A FewWordsAbout Safety
Your safety, and the safety of others, is very important. And operating this vehicle safely is an important responsibility. To help you make informed decisions about safety, we have provided operat ...
Driver's Airbag Replacement
NOTE: If replacing the driver's airbag after deployment, refer to Component Replacement/Inspection After Deployment for a complete list of other parts that must also be replaced. ...
Obtaining Navigation Update Data
Honda is continually expanding the scope of the navigation system. Navigation system software upgrades may be made available periodically, usually in the fall of each year. To purchase an updat ...