Honda Fit: Rear License Plate Light Bulb
When replacing, use the following bulb.
Rear License Plate Light: 5 W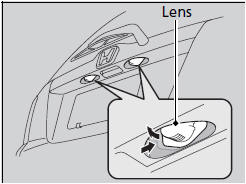 1. Push the lens on the left and pull out the lens and the socket attached to it.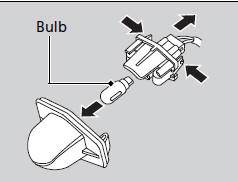 2. Remove the license plate light assembly by squeezing the tabs on both sides of the socket.
3. Remove the old bulb and insert a new bulb.
See also:
Engine Coolant
Adding Engine Coolant If the coolant level in the reserve tank is at or below the MIN line, add coolant to bring it up to the MAX line. Inspect the cooling system for leaks. Always use Honda Lo ...
Cable Reel Replacement
Removal Make sure the front wheels are aligned straight ahead. Do the battery terminal disconnection procedure, then wait at least 3 minutes before starting work. ...
Fuel Economy
Improving Fuel Economy Fuel economy depends on several conditions, including driving conditions, your driving habits, the condition of your vehicle, and loading. Depending on these and other co ...