Honda Fit: Rear License Plate Light Bulb
When replacing, use the following bulb.
Rear License Plate Light: 5 W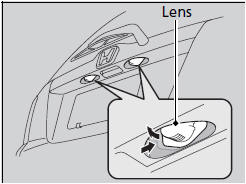 1. Push the lens on the left and pull out the lens and the socket attached to it.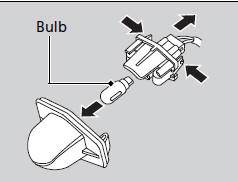 2. Remove the license plate light assembly by squeezing the tabs on both sides of the socket.
3. Remove the old bulb and insert a new bulb.
See also:
Rear Seat-Back Cover/Pad Replacement
Special Tools Required KTC Trim Tool Set SOJATP2014 *Available through the Honda Tool and Equipment Program; call 888-424-6857 NOTE: Use the appropriate tool from the KTC trim to ...
Manual Transmission Removal (M/T)
Special Tools Required Universal Lifting Eyelet 07AAK-SNAA120 1.8 Support Bolt 07AAK-SNAA500 Engine Support Hanger, A and Reds AAR-T1256 *: Reds engine support hanger AAR-T1256 is available th ...
Fog Lights*
When the low beam headlights are on, turn the fog light switch on to use the fog lights. When the fog lights are on, the indicator in the instrument panel will be on. ...