Honda Fit: Adding Engine Oil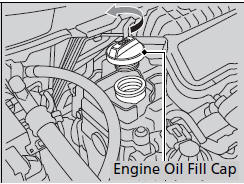 1. Unscrew and remove the engine oil fill cap.
2. Add oil slowly.
3. Reinstall the engine oil fill cap, and tighten it securely.
4. Wait for three minutes and recheck the engine oil dipstick.
If any oil spills, wipe it up immediately. Spilled oil may damage the engine compartment components.
NOTICE
Do not fill the engine oil above the upper mark.
Overfilling the engine oil can result in leaks and engine damage.
See also:
Camshaft Inspection
Remove the camshaft sprocket. Remove the rocker arm assembly, then disassemble the rocker arm. Put the rocker shaft holder bridge on the cylinder head, then tight ...
Rear License Plate Light Bulb
When replacing, use the following bulb. Rear License Plate Light: 5 W 1. Push the lens on the left and pull out the lens and the socket attached to it. 2. Remove the license plate light assemb ...
MAF Sensor/IAT Sensor Replacement
Disconnect the MAF sensor/IAT sensor connector (A). Remove the screws (B). Remove the MAF sensor/IAT sensor (C). Install the parts in the reverse order of removal ...