Honda Fit: USB Adapter Cable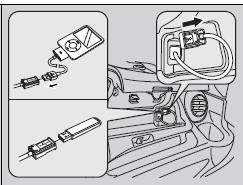 1. Unclip the USB connector and loosen the adapter cable.
2. Install the iPod® dock connector or the USB flash drive to the USB connector.
• Do not leave the iPod® or USB flash drive in the vehicle. Direct sunlight and high temperatures may damage it.
• Do not use an extension cable with the USB adapter cable.
• Do not connect the iPod® or USB flash drive using a hub.
• Do not use a device such as a card reader or hard disk drive, as the device or your files may be damaged.
• We recommend backing up your data before using the device in your vehicle.
• Displayed messages may vary depending on the device model and software version.
If the audio system does not recognize the iPod®, try reconnecting it a few times or reboot the device. To reboot, follow the manufacturer's instructions provided with the iPod® or visit www.apple.com/ ipod.
See also:
Clutch Replacement (M/T)
Special Tools Required Clutch Alignment Disc 07JAF-PM7011A Clutch Alignment Shaft 07JAF-PM7012A Clutch Alignment Shaft 07ZAF-PR8A100 Ring Gear Holder 07LAB-PV00100 Weight, Remover 07741-0010 ...
Fuel Recommendation
Your vehicle is designed to operate on unleaded gasoline with a pump octane number of 87 or higher. Use of a lower octane gasoline can cause a persistent, heavy metallic rapping noise that can lea ...
Connecting Rod Bolt Inspection
Measure the diameter of each connecting rod bolt at point A and point B with a micrometer. Calculate the difference in diameter between point A and point B. Point AпјЌPoi ...