Honda Fit: Floor Mats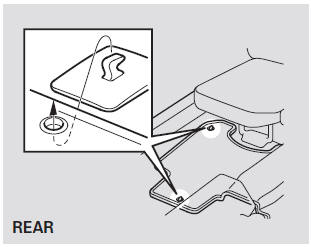 If you remove a floor mat, make sure to re-anchor it when you put it back in your vehicle.
A non-Honda floor mat may not fit your vehicle properly. This could prevent the proper operation of the folding rear seats and the passenger's seat weight sensors. We recommend using genuine Honda floor mats. Do not put additional floor mats on top of the anchored mats.
See also:
Mirrors
Keep the inside and outside mirrors clean and adjusted for best visibility. Be sure to adjust the mirrors before you start driving. The inside mirror has day and night positions. The night positio ...
Visual Index
...
Alternator Reassembly
If you removed the pulley, put the rotor in the drive-end housing, then torque its locknut to 110 N·m (11.2 kgf·m, 81 lbf·ft). Remove any grease or any oil from the ...