Honda Fit: Cleaning the Seat Belts
Cleaning the Seat Belts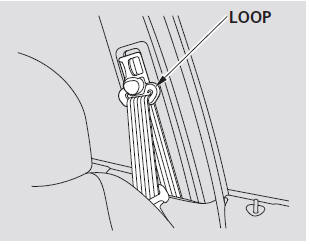 If your seat belts get dirty, use a soft brush with a mixture of mild soap and warm water to clean them. Do not use bleach, dye, or cleaning solvents. Let the belts air-dry before you use the vehicle.
Dirt build-up in the loops of the seat belt anchors can cause the belts to retract slowly. Wipe the insides of the loops with a clean cloth dampened in mild soap and warm water or isopropyl alcohol.
Floor Mats (Optional)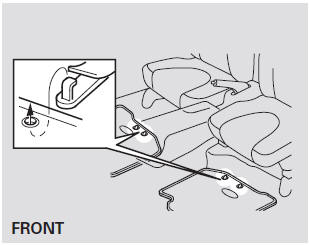 If your vehicle is equipped with genuine Honda floor mats, the mats hook over floor mat anchors. This keeps the floor mats from sliding forward and possibly interfering with the pedals or making the front passenger's weight sensors ineffective.
See also:
Specifications
*1: Sport models *2: Not available on all models *1: Automatic transmission models *2: Manual transmission models *1: All models except Sport models *2: Sport models *3: U.S. models ...
Charging System Indicator
If the charging system indicator comes on brightly when the engine is running, the battery is not being charged. Immediately turn off all electrical accessories. Try not to use other electrically ...
Radio Theft Protection
Your vehicle's audio system will disable itself if it is disconnected from electrical power for any reason. To make it work again, you must enter a specific five-digit code in the preset button ...