Honda Fit: Cleaning the Seat Belts
Cleaning the Seat Belts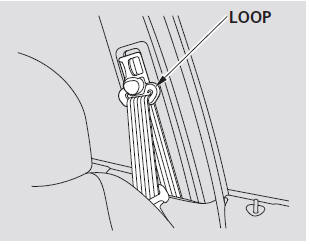 If your seat belts get dirty, use a soft brush with a mixture of mild soap and warm water to clean them. Do not use bleach, dye, or cleaning solvents. Let the belts air-dry before you use the vehicle.
Dirt build-up in the loops of the seat belt anchors can cause the belts to retract slowly. Wipe the insides of the loops with a clean cloth dampened in mild soap and warm water or isopropyl alcohol.
Floor Mats (Optional)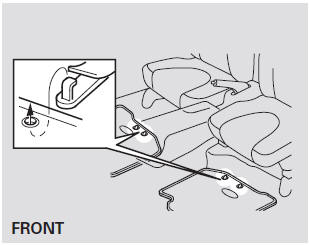 If your vehicle is equipped with genuine Honda floor mats, the mats hook over floor mat anchors. This keeps the floor mats from sliding forward and possibly interfering with the pedals or making the front passenger's weight sensors ineffective.
See also:
Rectifier Test
Check for continuity in each direction, between the B terminal and P terminals, and between the E terminal and P terminals of each diode pair. All diodes should have continuity in only one ...
Front Fender Fairing Replacement
NOTE: Put on gloves to protect your hands. Take care not to scratch the body. Remove the front inner fender as needed. From the wheel arch, remove the clip an ...
Spelling Assistance
The voice control system can also recognize phonetic alphabet input for numbers, letters, accented letters, punctuation marks, and symbols. NOTE: When selecting letters using the voice control s ...