Honda Fit: Service Station Procedures
Refueling
1. Park with the driver's side closest to the service station pump.
2. Outside of the vehicle, open the fuel fill door by pulling its notched edge.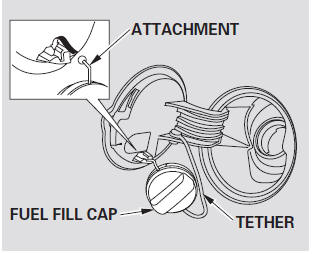 3. Remove the fuel fill cap slowly.
You may hear a hissing sound as pressure inside the tank escapes.
The fuel fill cap is attached to the fuel filler with a tether. Put the attachment on the fuel fill cap into the slit on the fuel fill door.
4. Stop filling the tank after the fuel nozzle automatically clicks off. Do not try to ''top off'' the tank. Leave some room for the fuel to expand with temperature changes.
If the fuel nozzle keeps clicking off even though the tank is not full, there may be a problem with your vehicle's fuel vapor recovery system. The system helps keep fuel vapor from going into the atmosphere. Try filling at another pump. If this does not fix the problem, consult your dealer.

Gasoline is highly flammable and explosive. You can be burned or seriously injured when handling fuel.
• Stop the engine, and keep heat, sparks, and flame away.
• Handle fuel only outdoors.
• Wipe up spills immediately.
5. Screw the fuel fill cap back on until it clicks at least once. If you do not properly tighten the cap, the malfunction indicator lamp may come on. You will also see a ''CHECK FUEL CAP'' message on the information display.
6. Close the fuel fill door.
Opening and Closing the Hood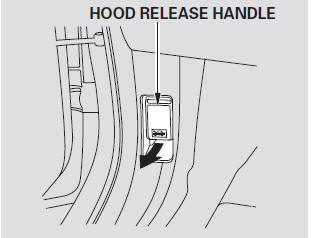 1. Park the vehicle, and set the parking brake. Pull the hood release handle under the lower left corner of the dashboard. The hood will pop up slightly.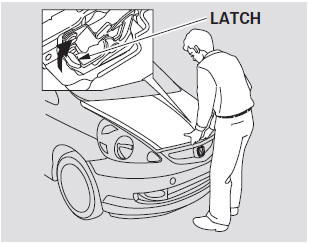 2. Put your fingers under the front edge of the hood near the center.
Slide your hand to the left until you feel the hood latch handle.
Push this handle up to release it.
Lift up the hood.
If the hood latch handle moves stiffly, or if you can open the hood without lifting the handle, the mechanism should be cleaned and lubricated.
3. Holding the grip, pull the support rod out of its clip. Insert the end into the designated hole in the hood.
To close the hood, lift it up slightly to remove the support rod from the hole. Put the support rod back into its holding clip. Lower the hood to about a foot (30 cm) above the fender, then let it drop. Make sure it is securely latched.
Oil Check
Wait a few minutes after turning the engine off before you check the oil.
1. Remove the dipstick (orange loop).
2. Wipe off the dipstick with a clean cloth or paper towel.
3. Insert the dipstick all the way back into its hole.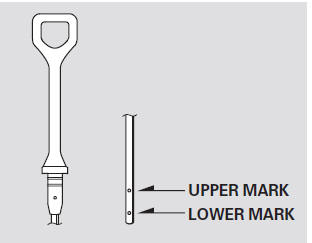 4. Remove the dipstick again, and check the level. It should be between the upper and lower marks.
Engine Coolant Check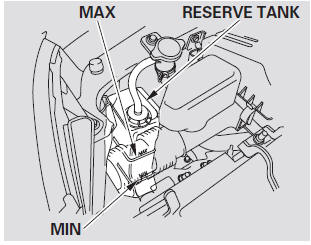 Look at the coolant level in the radiator reserve tank. Make sure it is between the MAX and MIN lines. If it is below the MIN line.