Honda Fit: Disc Player Error Messages
The chart on the right explains the error messages you may see in the display while playing a disc.
If you see an error message in the display while playing a disc, press the eject button. After ejecting the disc, check it for damage or deformation. If there is no damage, insert the disc again.
The audio systemwill try to play the disc. If there is still a problem, the error message will reappear. Press the eject button, and pull out the disc.
Insert a different disc. If the new disc plays, there is a problem with the first disc. If the error message cycle repeats and you cannot clear it, take your vehicle to a dealer.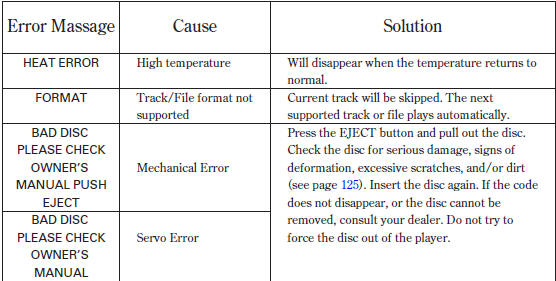 See also:
GPS System
The signals received from the GPS satellites are extremely weak (less than a millionth of the strength of a local FM station) and require an unobstructed view of the sky. The GPS antenna is loca ...
Transmission End Cover ATF Feed Pipe Replacement (A/T)
Remove the snap ring (A), the 3rd clutch feed pipe (B), and the feed pipe flange (C) from the end cover (D). Install a new O-ring (E) over the 3rd clutch feed pipe. In ...
How to Set Readiness Codes
Malfunction Indicator Lamp (MIL) Indication (In relation to Readiness Codes) The vehicle has certain readiness codes that are part of the on-board diagnostics for the emissions systems. If the ve ...