Honda Fit: Disc Player Error Messages
The chart on the right explains the error messages you may see in the display while playing a disc.
If you see an error message in the display while playing a disc, press the eject button. After ejecting the disc, check it for damage or deformation. If there is no damage, insert the disc again.
The audio systemwill try to play the disc. If there is still a problem, the error message will reappear. Press the eject button, and pull out the disc.
Insert a different disc. If the new disc plays, there is a problem with the first disc. If the error message cycle repeats and you cannot clear it, take your vehicle to a dealer.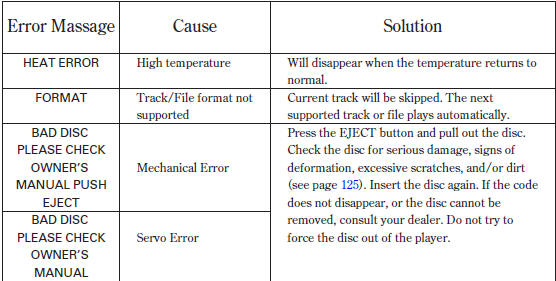 See also:
Tire Pressure Monitoring System (TPMS) - Required Federal Explanation
U.S. models Each tire, including the spare (if provided), should be checked monthly when cold and inflated to the inflation pressure recommended by the vehicle manufacturer on the vehicle placard o ...
Shift Solenoid Valve Removal and Installation (A/T)
NOTE: Do not hold the solenoid valve connector to remove and install the solenoid valve. Be sure to hold the solenoid valve body. Remove the mounting bolts, then remove the solenoid valves by ...
Emissions Testing
Testing of Readiness Codes Your vehicle uses "readiness codes," as part of its onboard self diagnostic system. Some states refer to these codes during testing to see if your vehicle's em ...