Honda Fit: Tailgate
All models except Canadian DX
The tailgate will lock or unlock when you lock or unlock the driver's door by using the key, the lock tab on the driver's door, the master door lock switch or the remote transmitter (if equipped).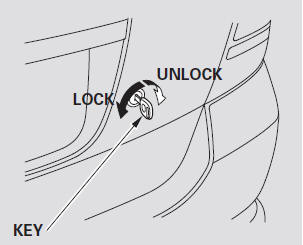 All models except S
You can lock or unlock the tailgate with the key.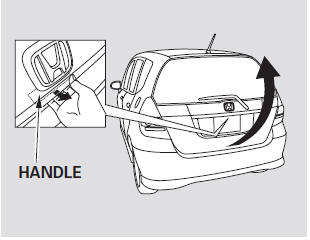 To open the tailgate, pull the handle, then lift up.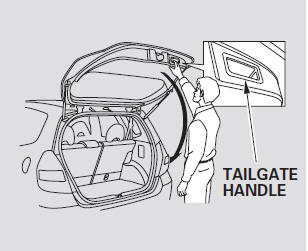 To close the tailgate, hold the tailgate handle, lower the tailgate, then press down on the back edge.
Keep the tailgate closed at all times while driving to avoid damaging the tailgate and to prevent exhaust gas from getting into the interior.
Unlocking the Tailgate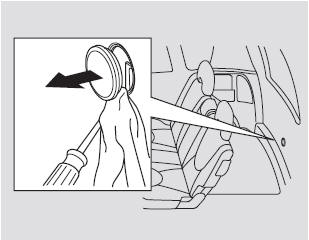 On Sport model
If the power door lock system cannot unlock the tailgate, unlock it manually.
Place a cloth on the edge of the cover, then use a small flat-tipped screwdriver to remove the cover on the back of the tailgate.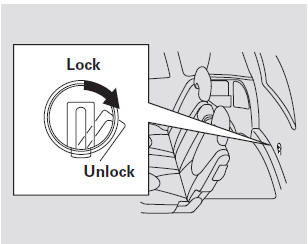 Push the release lever to the right as shown.
If you need to unlock the tailgate manually, it means there is a problem with the tailgate. Have the vehicle checked by your dealer.
See also:
Adjusting the Seat Positions
Adjust the driver's seat as far back as possible while allowing you to maintain full control of the vehicle. You should be able to sit upright, well back in the seat and be able to adequately ...
Transmission End Cover Air Check Valve Inspection and Replacement (A/T)
NOTE: There are two types of the transmission end cover; the type A and the type B; and both types are available. The differences between the types A and B of the end covers are: ...
Rocker Arm Assembly Removal
Remove the cylinder head cover. Loosen the rocker arm adjusting screws (A). Unscrew the rocker shaft mounting bolts two turns at a time in the sequence shown. ...