Honda Fit: Keys and Locks
On Sport model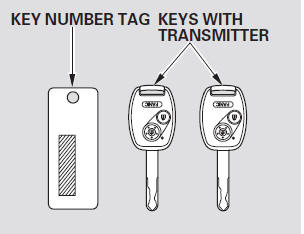 Your vehicle comes with the two ignition keys.
All models except Sport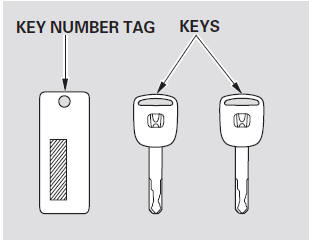 You should have received a key number tag with your keys. You will need this key number if you ever have to get a lost key replaced. Use only Honda-approved key blanks.
These keys contain electronic circuits that are activated by the immobilizer system. They will not work to start the engine if the circuits are damaged.
• Protect the keys from direct sunlight, high temperature, and high humidity.
• Do not drop the keys or set heavy objects on them.
• Keep the keys away from liquids.
If they get wet, dry them immediately with a soft cloth.
All models except Sport
The keys do not contain batteries.
Do not try to take them apart.
See also:
Disassembly
Compress the damper spring, then remove the nut (A) while holding the damper shaft with a hex wrench (B). Do not compress the damper spring more than necessary to remove the nut. ...
Transmission End Cover Air Check Valve Inspection and Replacement (A/T)
NOTE: There are two types of the transmission end cover; the type A and the type B; and both types are available. The differences between the types A and B of the end covers are: ...
ATF Cooler Cleaning (A/T)
Special Tools Required ATF Cooler Cleaner GHTTTCF6H Magnetic Nonbypass Spin-On Filter GTHGNBP2 *: Available through the Honda Tool and Equipment Program 888-424-6857. Before installing an ...