Honda Fit: Acquiring GPS Information
Depending on the length of time the power was interrupted, your system may require GPS initialization.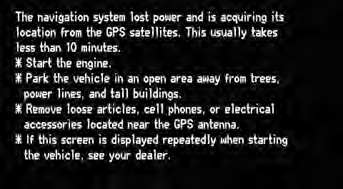 If initialization is not necessary, the system proceeds directly to the Startup Confirmation screen.
If the system fails to locate a sufficient number of satellites to locate your position within 10 minutes, the following screen is displayed.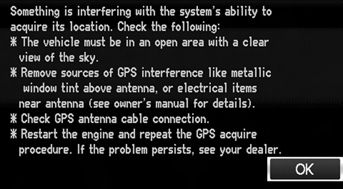 If you are experiencing GPS reception problems:
See also:
Fuel and Emissions System Description - PGM-FI System
PGM-FI System The programmed fuel injection (PGM-FI) system is a sequential multiport fuel injection system. Alternator Control The alternator signals the ECM/PCM during chargi ...
Mirrors
Keep the inside and outside mirrors clean and adjusted for best visibility. Be sure to adjust the mirrors before you start driving. The inside mirror has day and night positions. The night positio ...
For Safe Driving
The following pages explain your vehicle's safety features and how to use them properly. The safety precautions below are ones that we consider to be among the most important. ...