Honda Fit: Acquiring GPS Information
Depending on the length of time the power was interrupted, your system may require GPS initialization.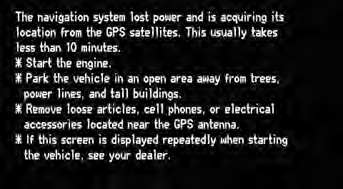 If initialization is not necessary, the system proceeds directly to the Startup Confirmation screen.
If the system fails to locate a sufficient number of satellites to locate your position within 10 minutes, the following screen is displayed.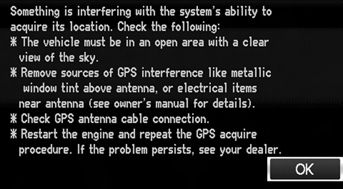 If you are experiencing GPS reception problems:
See also:
Using the Phonebook
PHONE button ► Phonebook 1. Select a name.  Select alphabetical tabs to display the entries in the group. 2. Select a number. 3. Select Call to begin dialing. Up to three icons ...
Center Vent
NOTE: Take care not to scratch the dashboard or its related parts. Remove these items: Audio unit, without navigation system ('9-11 models) Audio unit, with ...
Cruise Control
Maintains a constant vehicle speed without having to keep your foot on the accelerator. Use cruise control on freeways or open roads where you can travel at a constant speed with little accelerati ...