Honda Fit: Acquiring GPS Information
Depending on the length of time the power was interrupted, your system may require GPS initialization.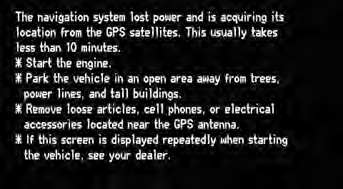 If initialization is not necessary, the system proceeds directly to the Startup Confirmation screen.
If the system fails to locate a sufficient number of satellites to locate your position within 10 minutes, the following screen is displayed.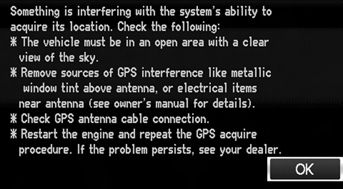 If you are experiencing GPS reception problems:
See also:
ATF Cooler Hose Replacement (A/T)
Drain the automatic transmission fluid (ATF). Install the ATF cooler hoses over the ATF cooler lines, and secure the hoses with the clips in the details (A), (B), (C), and (D) ...
Map Update
INFO button ►Map Update Update the map database. When you order a map update, it is mailed to you on a USB flash drive. ...