Honda Fit: Entering the Security Code
Find the navigation system's security code and serial number label in your Owner's Manual kit. Do not store the label in your vehicle. If you lose the label, you must first retrieve the serial number, and then obtain the code. You can find out about your serial number and security code from a dealer.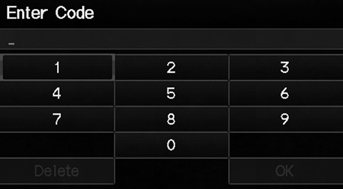 1. Turn the ignition switch to ON (II), and turn on the audio system.
► If you turn the ignition switch to ACCESSORY (I), and you will requested to enter the security code.
See step 2.
2. Enter the security code.
► If you do not enter the security code correctly after 10 tries, leave the system for one hour before trying again, or visit a dealer to have the system reset.
NOTE
:
In the U.S., you can register the security code on Owner Link (owners.honda.com.) .
To find information on how to retrieve the serial number and obtain the code, visit radio-navicode.honda.com.
See also:
Valve Stem-to-Guide Clearance Inspection
Remove the valves. Subtract the O.D. of the valve stem, measured with a micrometer, from the I.D. of the valve guide, measured with an inside micrometer or ball gauge. Take t ...
Audio System Basic Operation
To use the audio system function, the ignition switch must be in ACCESSORY or ON . Use the selector knob to access some audio functions. Selector knob: Rotate left or right to scroll throug ...
Special Tools Required
Mainshaft Holder 07GAB-PF50101 Remove the bolts securing the ATF inlet line (D) and ATF filter holder (E), the line bolt and sealing washers, and remove the ATF inlet line, ATF hose, ...