Honda Fit: Audio Screen Control

AUDIO button (in iPod® mode)
Control the audio screen through the navigation system.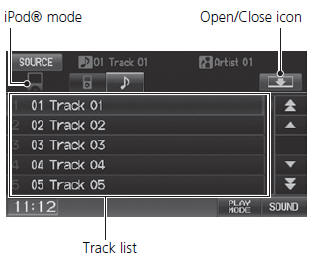 Select a track.
Select the menu tab to change songs in the track list.
The following items are available:
• PLAY
MODE

Shuffle All: Plays all tracks in
the track list in random order.

Shuffle Album: Plays all tracks in
the track list in random order by albums.
Each song in an album is played in the right order and only the order of albums is randomized.

Repeat 1 Track: Repeats the current
track.
• SOUND
: Displays the sound preferences screen.
• SOURCE
: Changes the source mode.
• Open/Close icon:
Displays/hides the detailed information.
To stop repeat- or shuffle-play, select the current play mode button again.
See also:
Audio Control Display
Press the AUDIO button to display the audio system on the navigation screen. ...
Engine Compression Inspection
NOTE: After the inspection, you must reset the ECM/PCM. Otherwise, the ECM/PCM will continue to stop the injectors from operating. Allow the engine to reach operating temperature (fan comes o ...
Inspection
Install the nut on the damper shaft end, and set the socket wrench and T-handle on the nut. Compress the damper assembly by hand, and check for smooth operation through a full ...