Honda Fit: Resuming Your Trip
Stop your vehicle en route (e.g., to rest, stop for gas, etc.), and then continue on your route.
If you did not complete your route, the Continue Trip screen is displayed when you restart your vehicle.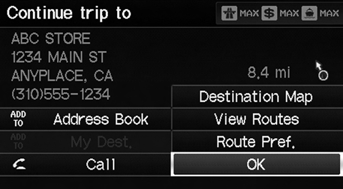 Select OK.
► You can continue on the same route.
• Route Pref.: Changes the route preferences (calculating method).
• View Routes: Displays three different routes.
• Destination Map: Display a map of the destination.
The Continue Trip screen has the same options as when you calculate a route.
To cancel your destination, press the CANCEL/ BACK button.
Add to Address Book
You can add the destination address to the address book.
Call

You can place a phone call to the destination phone number.
See also:
Clutch Disc and Pressure Plate Installation
Temporarily install the clutch disc onto the splines of the transmission mainshaft. Make sure the clutch disc slides freely on the mainshaft. Apply a light coat of super high temp ...
Fuel Economy
Improving Fuel Economy Fuel economy depends on several conditions, including driving conditions, your driving habits, the condition of your vehicle, and loading. Depending on these and other co ...
Overheating
How to Handle Overheating Overheating symptoms are as follows: • The high temperature indicator comes on or the engine suddenly loses power. • Steam or spray comes out of the engine compartment ...