Honda Fit: How to Use This Manual
This section explains different methods on how you can easily find information in this manual.
Searching the Table of Contents
Two types of Tables of Contents help you find your desired information.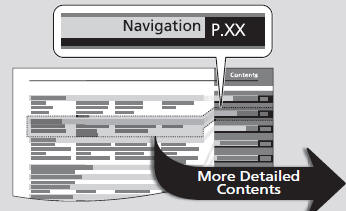 Table of Contents
First, find the general chapter related to what you are looking for (e.g., entering a destination from the Address Book).
Then, go to that chapter to view a more specific table of contents.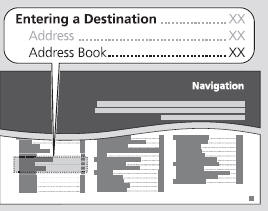 Chapter Contents
This more detailed table of contents shows you exactly what information is listed by section and title.
Searching the Index
Menu items displayed on the navigation screen (e.g., Address Book) can be found individually in the Index.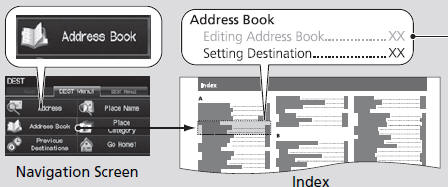 The Index consists of main terms and subentries.
The sub-entries help you get to the desired page depending on what you are looking for.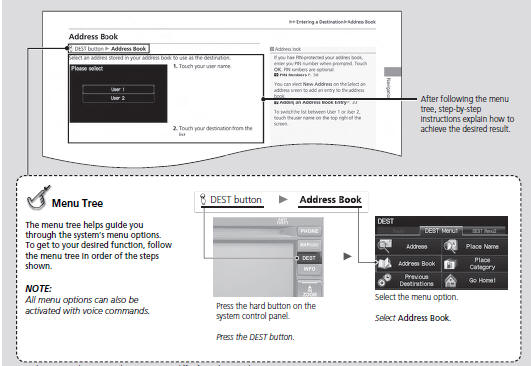 Sample pages and images in this section may differ from the actual ones.
See also:
Safety When Performing Maintenance
Some of the most important safety precautions are given here. However, we cannot warn you of every conceivable hazard that can arise in performing maintenance. Only you can decide whether or not y ...
Seat Belt Inspection
Out of Vehicle For front seat belt retractors with seat belt tensioners, review the SRS component locations and the precautions and procedures before doing repairs or serv ...
Sunvisor Removal/Installation
'9-10 models Click here for an interactive version of this procedure. NOTE: Put on gloves to protect your hands. Take care not to damage the sunvisor or the headliner. ...