Honda Fit: Tire Rotation
Rotating tires according to the Maintenance Minder message on the information display helps to distribute wear more evenly and increase tire life.
■ Tires without rotation marks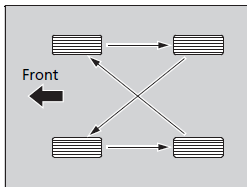 Rotate the tires as shown here.
■ Tires with rotation marks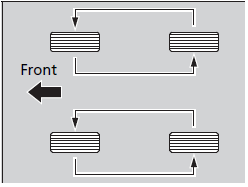 Rotate the tires as shown here.
Tires with directional tread patterns should only be rotated front to back (not from one side to the other).
Directional tires should be mounted with the rotation indication mark facing forward, as shown below.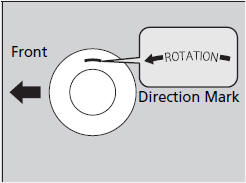 See also:
Security System
On Sport model The security system helps to protect your vehicle and valuables from theft. The horn sounds and a combination of headlights, position lights, side marker lights and taillights flash ...
Tools
Types of Tools The tools were stored in the cargo area. ...
Transmission Side - Release Bearing Inspection
Check the play of the release bearing by spinning it by hand. If there is excessive play or noise, replace the release bearing. NOTE: The release bearing is packed with grease. Do not ...