Honda Fit: Front Turn Signal Light Bulbs
When replacing, use the following bulbs.
Front Turn Signal Light: 21 W (Amber)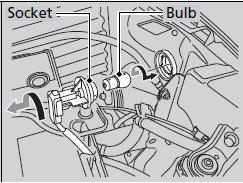 1. Turn the socket to the left and remove it.
2. Push in the old bulb, rotate to the left until it unlocks, and remove.
3. Insert a new bulb.
See also:
USB Flash Drive
...
Drive Belt Auto-Tensioner Pulley Replacement
Remove the auto-tensioner. Remove the tensioner pulley. Install the tensioner pulley in the reverse order of removal. Install the auto-tensioner. ...
Command Help
For "Command Help" menu items, all voice commands that are available for that system are listed. Select Read to hear the commands in the list read aloud. Voice Commands ...