Catalytic Converter System
Warm Up Three Way Catalytic Converter (WU-TWC) and Under-floor Three Way Catalytic Converter (Under-floor TWC)
The WU-TWC and the under-floor TWC convert hydrocarbons (HC), carbon monoxide (CO), and oxides of nitrogen (NOx) in the exhaust gas to carbon dioxide (CO2), nitrogen (N2), and water vapor.
WU-TWC (ATTACHED TO THE CYLINDER HEAD)
UNDER-FLOOR TWC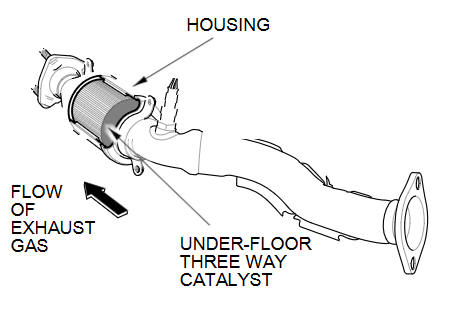 See also:
Installation
Hold the gearbox housing using a C-clamp (A) and wooden blocks (B) to a workbench as shown. Do not clamp the cylinder part of the gearbox housing in a vise. ...
Engine Block Drain Bolt/Sealing Bolt Installation
NOTE: When installing the drain bolt (A), always use a new washer. When installing the sealing bolt(s) (B), always use a new bolt(s) and washer(s) (C). ...
Breather Line and Suction Line Inspection (Page-1)
Special Tools Required Fuel Pressure Gauge Attachment Set 07AAJ-S6MA150 Vacuum Pump/Gauge, 0-30 inHg Snap-on YA4000A or equivalent, commercially available Vacuum/Pressure Gauge, 0-4 inHg 07 ...