Catalytic Converter System
Warm Up Three Way Catalytic Converter (WU-TWC) and Under-floor Three Way Catalytic Converter (Under-floor TWC)
The WU-TWC and the under-floor TWC convert hydrocarbons (HC), carbon monoxide (CO), and oxides of nitrogen (NOx) in the exhaust gas to carbon dioxide (CO2), nitrogen (N2), and water vapor.
WU-TWC (ATTACHED TO THE CYLINDER HEAD)
UNDER-FLOOR TWC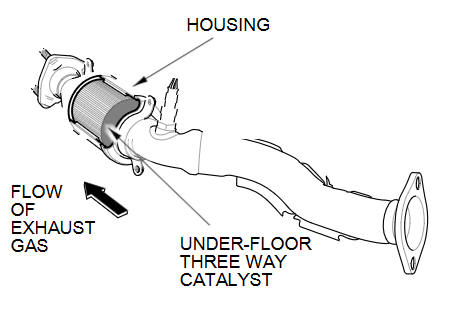 See also:
Braking System
Your vehicle is equipped with front disc brakes. The brakes on the rear wheels are drum. A power assist helps reduce the effort needed on the brake pedal. The anti-lock brake system (ABS) helps yo ...
Connecting rod Specification(s)
Connecting rod Item Measurement Qualification Standard or New Service Limit Connecting ...
Fuel Line/Quick-Connect Fitting Precautions
The fuel line/quick-connect fittings (A, B, C, D, E, F, G, H, I, J, K and L) connect the fuel rail (M) to fuel feed hose (N), the fuel feed hose to the fuel line (O), the fuel feed line (P) to the ...