Catalytic Converter System
Warm Up Three Way Catalytic Converter (WU-TWC) and Under-floor Three Way Catalytic Converter (Under-floor TWC)
The WU-TWC and the under-floor TWC convert hydrocarbons (HC), carbon monoxide (CO), and oxides of nitrogen (NOx) in the exhaust gas to carbon dioxide (CO2), nitrogen (N2), and water vapor.
WU-TWC (ATTACHED TO THE CYLINDER HEAD)
UNDER-FLOOR TWC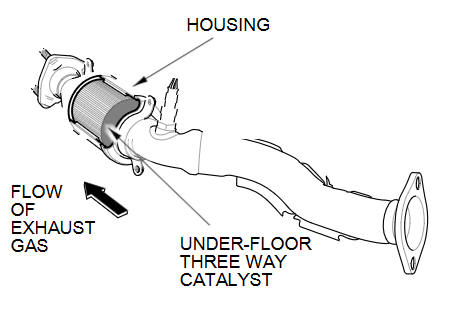 See also:
Adding Waypoints
Add up to four waypoints (pit stops) along the route to your destination. Waypoints allow you to stop for gas or food, for example, and then continue on to your destination. Press the MAP/GUID ...
Remote Transmitter Care
Replacing the Battery If the indicator does not come on when the button is pressed, replace the battery. Battery type: CR1616 1. Unscrew the cover with a small Phillipshead screwdriver. υ ...
Address
DEST button ► Address Enter an address to use as the destination. The state or province you are currently in is displayed (e.g., California). Select an item. The following items are av ...