Catalytic Converter System
Warm Up Three Way Catalytic Converter (WU-TWC) and Under-floor Three Way Catalytic Converter (Under-floor TWC)
The WU-TWC and the under-floor TWC convert hydrocarbons (HC), carbon monoxide (CO), and oxides of nitrogen (NOx) in the exhaust gas to carbon dioxide (CO2), nitrogen (N2), and water vapor.
WU-TWC (ATTACHED TO THE CYLINDER HEAD)
UNDER-FLOOR TWC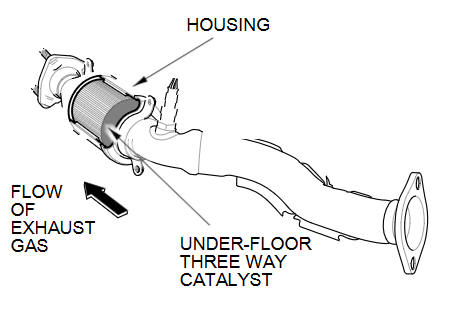 See also:
Output Shaft (Countershaft) Speed Sensor Replacement (M/T)
M/T Raise the vehicle on a lift. Disconnect the output shaft (countershaft) speed sensor connector (A). Remove the output shaft (countershaft) speed sensor (B). ...
Tire and Wheel Replacement
Replace your tires with radials of the same size, load range, speed rating, and maximum cold tire pressure rating (as shown on the tire's sidewall). Using tires of a different size or construc ...
Protecting Infants and Small Children
Protecting Infants Child Seat Type An infant must be properly restrained in a rear-facing, reclining child seat until the child reaches the seat maker's weight or height limit for the seat, an ...