Honda Fit: Adjusting the Sound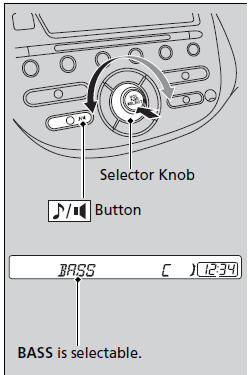 Press the
(sound) button, and
rotate

to adjust the setting.
Each time you press the

button, a
sound mode switches as follows.
When the adjustment level reaches the center, you will see C in the display.
The SVC has four modes: OFF, LOW, MID, and HIGH.
SVC adjusts the volume level based on the vehicle speed. As you go faster, audio volume increases. As you slow down, audio volume decreases.
See also:
Tool Maintenance
Follow these instructions to keep the ATF cooler cleaner working properly: Replace the two magnetic nonbypass spin-on filters after every 20 hours of use, based on the hour meter, or when yo ...
Side Impact Sensor (Second) Replacement
Removal Do the battery terminal disconnection procedure, then wait at least 3 minutes before starting work. Remove the cargo area side trim. Disconnect the side ...
Removal
NOTE: Do not allow dust, dirt, or other foreign materials to enter the steering gearbox. Remove the steering gearbox. Remove both tie-rod ends from the rack ends. R ...