Honda Fit: Power Door Mirrors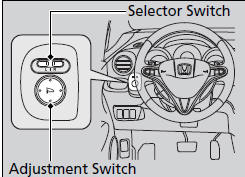 You can adjust the door mirrors when the ignition switch is in ON

.
■ Mirror position adjustment
L/R selector switch:
Select the left or right mirror. After adjusting the mirror, return the switch to the center position.
Mirror position adjustment switch:
Press the switch left, right, up, or down to move the mirror.
See also:
Valve Body and ATF Strainer Removal (A/T)
Remove the ATF feed pipe (A) from the regulator valve body (B). Remove the ATF feed pipes (C) (D) from the servo body (E). Remove the ATF strainer (F) (two bolts). ...
Breather Line and Suction Line Inspection (Page-1)
Special Tools Required Fuel Pressure Gauge Attachment Set 07AAJ-S6MA150 Vacuum Pump/Gauge, 0-30 inHg Snap-on YA4000A or equivalent, commercially available Vacuum/Pressure Gauge, 0-4 inHg 07 ...
Visiting Your Dealer
If you have a question that you cannot resolve using the available help resources, you can consult your dealer. Please identify the specific issue (e.g., error occurs when you enter a specific add ...