Honda Fit: Light Switches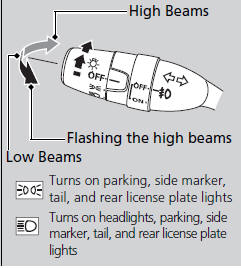 Rotating the light switch turns the lights on and off, regardless of the position of the ignition switch.
■ High beams
Push the lever forward until you hear a click.
■ Low beams
When in high beams, pull the lever back to return to low beams.
■ Flashing the high beams
Pull the lever back, and release it.
If you remove the key from the ignition switch while the lights are on, a chime sounds when the driver's door is opened.
Do not leave the lights on when the engine is off because it will cause the battery to discharge.
See also:
Address
DEST button ► Address Enter an address to use as the destination. The state or province you are currently in is displayed (e.g., California). Select an item. The following items are av ...
PCV
Fuel and Emissions System Description - PCV System Positive Crankcase Ventilation (PCV) System The PCV valve prevents blow-by gasses from escaping into the atmosphere by venting them into the ...
Inspection
Install the flange nut on the damper shaft end, and set the socket wrench and T-handle on the nut. Compress the damper assembly by hand, and check for smooth operation through ...