Honda Fit: Light Switches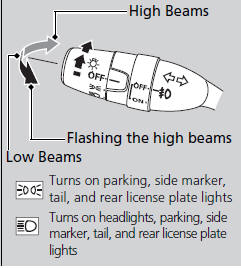 Rotating the light switch turns the lights on and off, regardless of the position of the ignition switch.
■ High beams
Push the lever forward until you hear a click.
■ Low beams
When in high beams, pull the lever back to return to low beams.
■ Flashing the high beams
Pull the lever back, and release it.
If you remove the key from the ignition switch while the lights are on, a chime sounds when the driver's door is opened.
Do not leave the lights on when the engine is off because it will cause the battery to discharge.
See also:
Adding Engine Oil
Unscrew and remove the engine oil fill cap on the valve cover. Pour in the oil slowly and carefully so you do not spill any. Clean up any spills immediately. Spilled oil could damage components ...
Valve Inspection
Remove the valves. Measure the valve in these areas. Intake Valve Dimensions A Standard (New): 27.85пјЌ28.15 mm (1.0965пјЌ1.108 ...
Inspection
Install the nut on the damper shaft end, and set the socket wrench and T-handle on the nut. Compress the damper assembly by hand, and check for smooth operation through a full ...