Honda Fit: Light Switches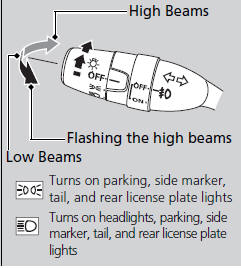 Rotating the light switch turns the lights on and off, regardless of the position of the ignition switch.
■ High beams
Push the lever forward until you hear a click.
■ Low beams
When in high beams, pull the lever back to return to low beams.
■ Flashing the high beams
Pull the lever back, and release it.
If you remove the key from the ignition switch while the lights are on, a chime sounds when the driver's door is opened.
Do not leave the lights on when the engine is off because it will cause the battery to discharge.