Honda Fit: Identification Numbers
Your vehicle has several identifying numbers in various places.
The vehicle identification number (VIN) is the 17-digit number your dealer uses to register your vehicle for warranty purposes. It is also necessary for licensing and insuring your vehicle. The easiest place to find the VIN is on a plate fastened to the top of the dashboard. You can see it by looking through the windshield on the driver's side. It is also on the certification label attached to the driver's doorjamb, and is stamped on the engine compartment bulkhead. The VIN is also provided in bar code on the certification label.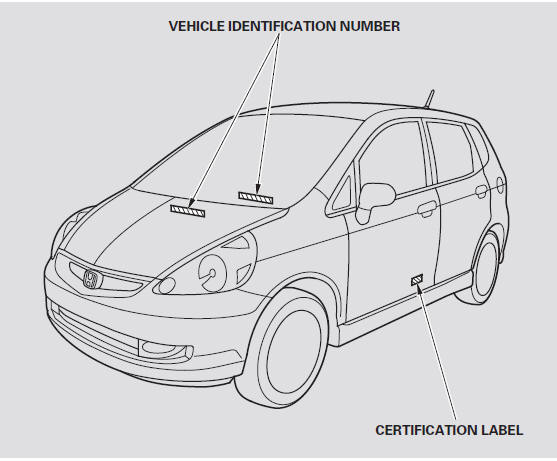 The engine number is stamped into the front of the engine block.
The transmission number is on a label on top of the transmission.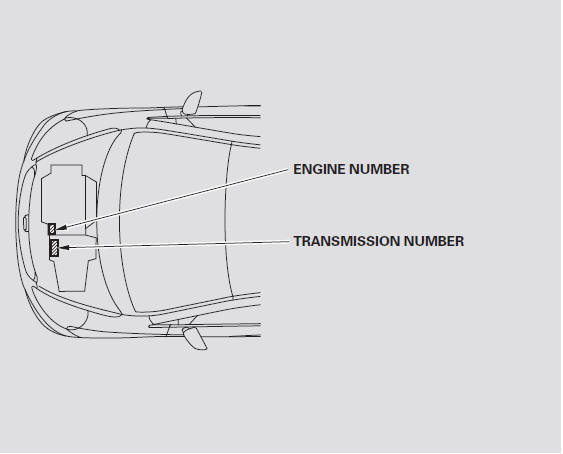 See also:
Front Inner Fender Replacement
NOTE: Put on gloves to protect your hands. Take care not to scratch the body. For some models: Remove the side sill panel. Remove the front inner fender (A). ...
Torque Converter Housing Countershaft Bearing Replacement (A/T)
Special Tools Required Adjustable Bearing Puller, 25пјЌ40 mm 07736-A01000B Driver Handle, 15 x 135L 07749-0010000 Oil Seal Driver Attachment, 58 mm 07JAD-PH80101 Remove the countersh ...
Rear Seat Belt Replacement
Rear Seat Belt NOTE: Check the rear seat belts for damage, and replace them if necessary. Remove these items: Rear door inner seal, as needed Tailgate weatherst ...