Honda Fit: Windshield Washers
Check the fluid level in the windshield washer reservoir at least monthly during normal use.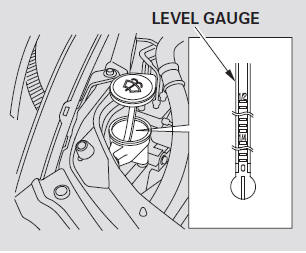 Check the fluid level by removing the cap and looking at the level gauge
On Canadian models: The low washer level indicator comes on when the level is low.
Fill the reservoir with a good-quality windshield washer fluid. This increases the cleaning capability and prevents freezing in cold weather.
When you refill the reservoir, clean the edges of the windshield wiper blades with windshield washer fluid on a clean cloth. This will help to condition the blade edges.

Do not use engine antif reeze or a vinegar/water solution in the windshield washer reservoir. Antif reeze can damage your vehicle's paint, while a vinegar/water solution can damage the windshield washer pump. Use only commercially-available windshield washer f luid.
See also:
Editing My Destination
DEST button (when en route) ►My Destination Delete or edit the order of waypoints. 1. Select Edit. ► Select Map to display the destination and waypoints on the map screen. ...
Pairing from Phone Setup
PHONE button ► Phone Setup Use the Phone setup screen to pair an additional Bluetooth-compatible phone if a phone has been previously paired to the system. 1. Select Add/Select a Phone ...
Recirculation Control Cable Adjustment
Open the glove box. Release the glove box stop on each side, then let the glove box hang down. Set the recirculation control lever to FRESH (). Detach the recirculation ...