Honda Fit: Searching for Music

AUDIO button (in iPod® mode)
Search for music using the iPod® menu.
1. Select the menu tab.
2. Select a search category (e.g., Album).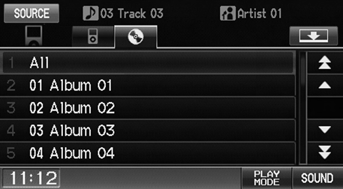 3. Select an item.
► The selection begins playing.
The order of the track list displayed if you select "All" on the iPod® menu varies depending on the iPod® model and software.
Back to Current Track
: Displays the current track at the top of the list.