Honda Fit: Calculating the Route
This section describes how to calculate your route.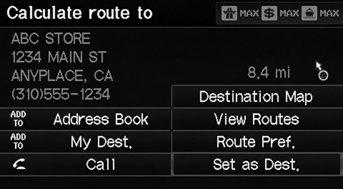 1. Select Set as Dest.
► The system calculates and displays the route line on the map screen.
The following items are available:
• Route Pref.: Changes the route preferences (calculating method).
• View Routes: Displays three different routes.
• Destination Map: Displays a map of the destination.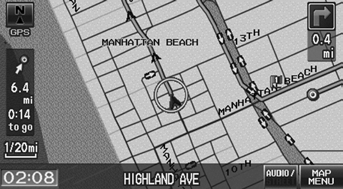 2. Follow the route guidance to your destination.
► The system provides you with pop-up messages if your route passes through unverified areas, avoid areas, or areas with traffic restrictions.
The current route preferences are displayed as icons on the top right of the Calculate Route screen. The straight line distance (as the crow flies, not driving distance) and direction to the destination are shown.
You cannot use voice commands while the system is calculating the route.
Add to Address Book
You can add the destination address to the address book.
Add to My Dest.
You can add the address to the destination list.
Call

You can place a telephone call to the destination phone number.
See also:
ATF Cooler Cleaning (A/T)
Special Tools Required ATF Cooler Cleaner GHTTTCF6H Magnetic Nonbypass Spin-On Filter GTHGNBP2 *: Available through the Honda Tool and Equipment Program 888-424-6857. Before installing an ...
Output Shaft (Countershaft) Speed Sensor Replacement (A/T)
Remove the air cleaner assembly. Disconnect the output shaft (countershaft) speed sensor connector, and remove the output shaft (countershaft) speed sensor (A). ...
Engine Compression Inspection
NOTE: After the inspection, you must reset the ECM/PCM. Otherwise, the ECM/PCM will continue to stop the injectors from operating. Allow the engine to reach operating temperature (fan comes o ...