Honda Fit: Calculating the Route
This section describes how to calculate your route.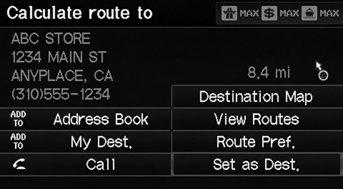 1. Select Set as Dest.
► The system calculates and displays the route line on the map screen.
The following items are available:
• Route Pref.: Changes the route preferences (calculating method).
• View Routes: Displays three different routes.
• Destination Map: Displays a map of the destination.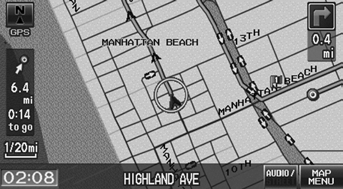 2. Follow the route guidance to your destination.
► The system provides you with pop-up messages if your route passes through unverified areas, avoid areas, or areas with traffic restrictions.
The current route preferences are displayed as icons on the top right of the Calculate Route screen. The straight line distance (as the crow flies, not driving distance) and direction to the destination are shown.
You cannot use voice commands while the system is calculating the route.
Add to Address Book
You can add the destination address to the address book.
Add to My Dest.
You can add the address to the destination list.
Call

You can place a telephone call to the destination phone number.
See also:
Subframe Replacement
Front Subframe Torque NOTE: After loosening the subframe mounting bolts, be sure to replace them with new ones. Loosely install new front subframe mounting bolts, then tighten the b ...
Auxiliary Input Jack
Use the jack to connect standard audio devices. 1. Open the AUX cover. 2. Connect a standard audio device to the input jack using a 1/8 inch (3.5 mm) stereo miniplug. ► The audio system a ...
Torque Converter Housing Mainshaft Bearing and Oil Seal Replacement (A/T)
Special Tools Required Adjustable Bearing Puller, 25пјЌ40 mm 07736-A01000B Driver Handle, 15 x 135L 07749-0010000 Bearing Driver Attachment, 62 x 68 mm 07746-0010500 Bearing Driver Attachme ...