Honda Fit: Calculating the Route
This section describes how to calculate your route.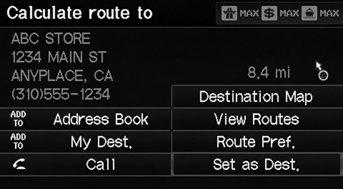 1. Select Set as Dest.
► The system calculates and displays the route line on the map screen.
The following items are available:
• Route Pref.: Changes the route preferences (calculating method).
• View Routes: Displays three different routes.
• Destination Map: Displays a map of the destination.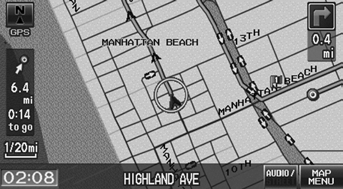 2. Follow the route guidance to your destination.
► The system provides you with pop-up messages if your route passes through unverified areas, avoid areas, or areas with traffic restrictions.
The current route preferences are displayed as icons on the top right of the Calculate Route screen. The straight line distance (as the crow flies, not driving distance) and direction to the destination are shown.
You cannot use voice commands while the system is calculating the route.
Add to Address Book
You can add the destination address to the address book.
Add to My Dest.
You can add the address to the destination list.
Call

You can place a telephone call to the destination phone number.
See also:
Gauges
TripMeter This meter shows the number of miles (U.S.) or kilometers (Canada) driven since you last reset it. There are two trip meters: Trip A and Trip B. Switch between these displays by pres ...
Output Shaft (Countershaft) Speed Sensor Replacement (M/T)
M/T Raise the vehicle on a lift. Disconnect the output shaft (countershaft) speed sensor connector (A). Remove the output shaft (countershaft) speed sensor (B). ...
Route Commands
The system accepts these commands when a route is set. How long to the destination? How far to the destination? Display destination map Display entire route ...