Honda Fit: Tire Rotation
Rotating tires according to the Maintenance Minder message on the information display helps to distribute wear more evenly and increase tire life.
■ Tires without rotation marks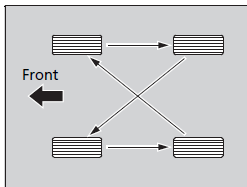 Rotate the tires as shown here.
■ Tires with rotation marks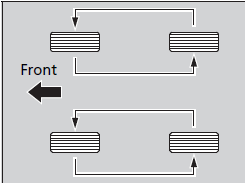 Rotate the tires as shown here.
Tires with directional tread patterns should only be rotated front to back (not from one side to the other).
Directional tires should be mounted with the rotation indication mark facing forward, as shown below.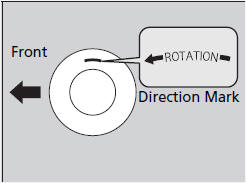 See also:
Specifications
*1: Sport models *2: Not available on all models *1: Automatic transmission models *2: Manual transmission models *1: All models except Sport models *2: Sport models *3: U.S. models ...
Vehicle
INFO button ► Setup ►Other ►Vehicle Set the off-road tracking feature and correct the vehicle position displayed on the map. Select an item. The following items are availa ...
Manual Transmission Removal (M/T)
Special Tools Required Universal Lifting Eyelet 07AAK-SNAA120 1.8 Support Bolt 07AAK-SNAA500 Engine Support Hanger, A and Reds AAR-T1256 *: Reds engine support hanger AAR-T1256 is available th ...