Honda Fit: Fog Light Bulbs
When replacing, use the following bulbs.
Fog Light: 55 W (H11)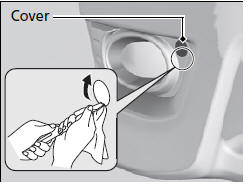 1. Pry on the edge of the cover using a flat-tip screwdriver to remove the cover.
► Wrap the flat-tip screwdriver with a cloth to prevent scratches.
NOTICE
Halogen bulbs get very hot when lit. Oil, perspiration, or a scratch on the glass can cause the bulb to overheat and shatter.
The fog lights are halogen bulbs.
When replacing a bulb, handle it by its plastic case, and protect the glass from contact with your skin or hard objects. If you touch the glass, clean it with denatured alcohol and a clean cloth.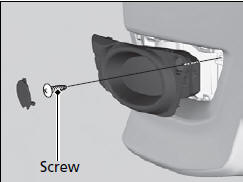 2. Remove the screw using a Phillips-head screwdriver and carefully pull the fog light assembly out of the bumper.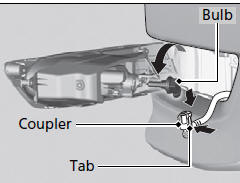 3. Remove the coupler.
► It can be removed by pushing the tab.> 4. Rotate the old bulb to the left to remove.> 5. Insert a new bulb into the fog light assembly and turn it to the right.> 6. Insert the coupler into the connector of the bulb.
See also:
Entering the Security Code
Find the navigation system's security code and serial number label in your Owner's Manual kit. Do not store the label in your vehicle. If you lose the label, you must first retrieve the serial ...
Cruise Control
On Sport model and Canadian LX model Cruise control allows you to maintain a set speed above 25 mph (40 km/h) without keeping your foot on the accelerator pedal. It should be used for cruising on s ...
Tailgate Lock Cylinder Replacement
For Some Models NOTE: Put on gloves to protect your hands. Remove the tailgate lower trim panal. Disconnect the tailgate cylinder rod (A). NOTE: Check for damaged or stress-wh ...