Honda Fit: Fog Light Bulbs
When replacing, use the following bulbs.
Fog Light: 55 W (H11)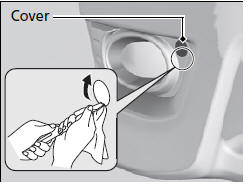 1. Pry on the edge of the cover using a flat-tip screwdriver to remove the cover.
► Wrap the flat-tip screwdriver with a cloth to prevent scratches.
NOTICE
Halogen bulbs get very hot when lit. Oil, perspiration, or a scratch on the glass can cause the bulb to overheat and shatter.
The fog lights are halogen bulbs.
When replacing a bulb, handle it by its plastic case, and protect the glass from contact with your skin or hard objects. If you touch the glass, clean it with denatured alcohol and a clean cloth.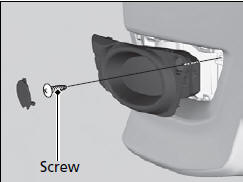 2. Remove the screw using a Phillips-head screwdriver and carefully pull the fog light assembly out of the bumper.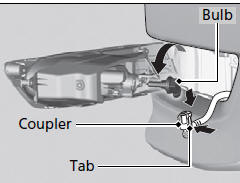 3. Remove the coupler.
► It can be removed by pushing the tab.> 4. Rotate the old bulb to the left to remove.> 5. Insert a new bulb into the fog light assembly and turn it to the right.> 6. Insert the coupler into the connector of the bulb.
See also:
Headliner Removal/Installation (General information)
Special Tools Required KTC Trim Tool Set SOJATP2014 *Available through the Honda Tool and Equipment Program; call 888-424-6857 SRS components are located in this area. Review the SRS ...
Before Driving
Before you begin driving your vehicle, you should know what gasoline to use and how to check the levels of important fluids. You also need to know how to properly store luggage or packages. The in ...
Charging System Indicator
If the charging system indicator comes on brightly when the engine is running, the battery is not being charged. Immediately turn off all electrical accessories. Try not to use other electrically ...