Honda Fit: Fog Light Bulbs
When replacing, use the following bulbs.
Fog Light: 55 W (H11)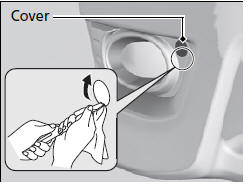 1. Pry on the edge of the cover using a flat-tip screwdriver to remove the cover.
► Wrap the flat-tip screwdriver with a cloth to prevent scratches.
NOTICE
Halogen bulbs get very hot when lit. Oil, perspiration, or a scratch on the glass can cause the bulb to overheat and shatter.
The fog lights are halogen bulbs.
When replacing a bulb, handle it by its plastic case, and protect the glass from contact with your skin or hard objects. If you touch the glass, clean it with denatured alcohol and a clean cloth.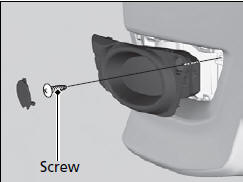 2. Remove the screw using a Phillips-head screwdriver and carefully pull the fog light assembly out of the bumper.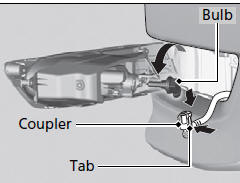 3. Remove the coupler.
► It can be removed by pushing the tab.> 4. Rotate the old bulb to the left to remove.> 5. Insert a new bulb into the fog light assembly and turn it to the right.> 6. Insert the coupler into the connector of the bulb.
See also:
Immobilizer-Keyless Control Unit Replacement
NOTE: SRS components are located in the area. Review the SRS component locations, and precautions and procedures before doing repairs or servicing. Remove the steering column ...
Regulator Valve Body Disassembly, Inspection, and Reassembly (A/T)
Clean all parts thoroughly in solvent, and dry them with compressed air. Blow out all passages except the air check valve filter. Inspect the regulator valve body for scoring and ...
Audio Screen Control
AUDIO button (in iPodВ® mode) Control the audio screen through the navigation system. Select a track. Select the menu tab to change songs in the track list. The following items are ava ...