Honda Fit: Fog Light Bulbs
When replacing, use the following bulbs.
Fog Light: 55 W (H11)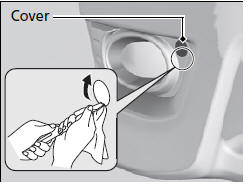 1. Pry on the edge of the cover using a flat-tip screwdriver to remove the cover.
► Wrap the flat-tip screwdriver with a cloth to prevent scratches.
NOTICE
Halogen bulbs get very hot when lit. Oil, perspiration, or a scratch on the glass can cause the bulb to overheat and shatter.
The fog lights are halogen bulbs.
When replacing a bulb, handle it by its plastic case, and protect the glass from contact with your skin or hard objects. If you touch the glass, clean it with denatured alcohol and a clean cloth.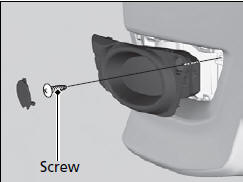 2. Remove the screw using a Phillips-head screwdriver and carefully pull the fog light assembly out of the bumper.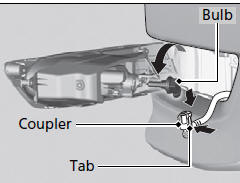 3. Remove the coupler.
► It can be removed by pushing the tab.> 4. Rotate the old bulb to the left to remove.> 5. Insert a new bulb into the fog light assembly and turn it to the right.> 6. Insert the coupler into the connector of the bulb.
See also:
Engine Coolant
Adding Engine Coolant If the coolant level in the reserve tank is at or below the MIN line, add coolant to bring it up to the MAX line. Inspect the cooling system for leaks. Always use Honda Lo ...
Hood Latch Replacement
NOTE: Put on gloves to protect your hands. Take care not to scratch the body or related parts. Remove the front grille cover. Remove the clips, and release th ...
Transmission Housing and Shaft Assembly Removal (A/T)
Special Tools Required Housing Puller 07HAC-PK40102 Remove the dipstick (A). Remove the shift solenoid valve cover (B), the dowel pins (C), and the gasket (D). Di ...