Honda Fit: Fog Light Bulbs
When replacing, use the following bulbs.
Fog Light: 55 W (H11)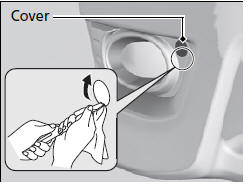 1. Pry on the edge of the cover using a flat-tip screwdriver to remove the cover.
► Wrap the flat-tip screwdriver with a cloth to prevent scratches.
NOTICE
Halogen bulbs get very hot when lit. Oil, perspiration, or a scratch on the glass can cause the bulb to overheat and shatter.
The fog lights are halogen bulbs.
When replacing a bulb, handle it by its plastic case, and protect the glass from contact with your skin or hard objects. If you touch the glass, clean it with denatured alcohol and a clean cloth.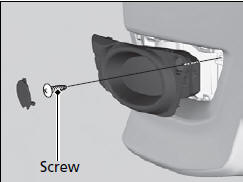 2. Remove the screw using a Phillips-head screwdriver and carefully pull the fog light assembly out of the bumper.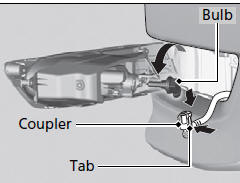 3. Remove the coupler.
► It can be removed by pushing the tab.> 4. Rotate the old bulb to the left to remove.> 5. Insert a new bulb into the fog light assembly and turn it to the right.> 6. Insert the coupler into the connector of the bulb.
See also:
Radio Theft Protection
Your vehicle's audio system will disable itself if it is disconnected from electrical power for any reason. To make it work again, you must enter a specific five-digit code in the preset button ...
Shift Lever Does Not Move
Automatic transmission models Follow the procedure below if you cannot move the shift lever out of the position. ■Releasing the Lock 1. Set the parking brake. 2. Remove the key from the ...
Instrument Panel
* : If equipped ...