Honda Fit: Disc Player Error Messages
The chart on the right explains the error messages you may see in the display while playing a disc.
If you see an error message in the display while playing a disc, press the eject button. After ejecting the disc, check it for damage or deformation. If there is no damage, insert the disc again.
The audio systemwill try to play the disc. If there is still a problem, the error message will reappear. Press the eject button, and pull out the disc.
Insert a different disc. If the new disc plays, there is a problem with the first disc. If the error message cycle repeats and you cannot clear it, take your vehicle to a dealer.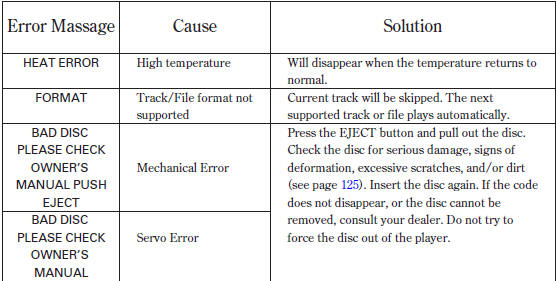 See also:
A/T Differential Carrier and Final Driven Gear Replacement (A/T)
Remove the final driven gear (A) from the differential carrier (B). The final driven gear bolts have left-hand threads. Install the final driven gear on the differential carri ...
Windshield Washers
Check the fluid level in the windshield washer reservoir at least monthly during normal use. Check the fluid level by removing the cap and looking at the level gauge On Canadian models: The low ...
Setting Up Speed Dialing
PHONE button ► Speed Dial 1 or Speed Dial 2 Create speed dial entries with voice tags for easy calling. 1. Select Add New. 2. Select a number entry option. 3. Select a number.> 4. ...