Honda Fit: Disc Player Error Messages
The chart on the right explains the error messages you may see in the display while playing a disc.
If you see an error message in the display while playing a disc, press the eject button. After ejecting the disc, check it for damage or deformation. If there is no damage, insert the disc again.
The audio systemwill try to play the disc. If there is still a problem, the error message will reappear. Press the eject button, and pull out the disc.
Insert a different disc. If the new disc plays, there is a problem with the first disc. If the error message cycle repeats and you cannot clear it, take your vehicle to a dealer.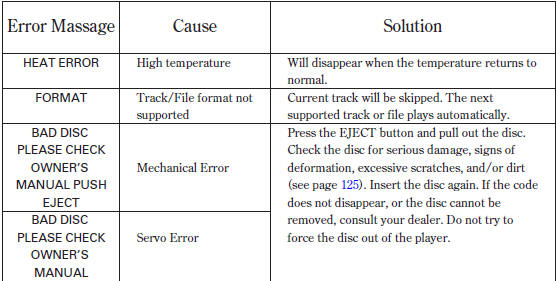 See also:
Rear Seat-Back Cover/Pad Replacement
Special Tools Required KTC Trim Tool Set SOJATP2014 *Available through the Honda Tool and Equipment Program; call 888-424-6857 NOTE: Use the appropriate tool from the KTC trim to ...
Checking the Battery
Check the condition of the battery monthly by looking at the test indicator window. The label on the battery explains the test indicator's colors. The test indicator window's location differ ...
System Theft Protection
The system is disabled when it is disconnected from the power source, such as when the battery is disconnected or goes dead. ■ Reactivating the system 1. Turn the ignition switch to ON (II) ...