Honda Fit: Disc Player Error Messages
The chart on the right explains the error messages you may see in the display while playing a disc.
If you see an error message in the display while playing a disc, press the eject button. After ejecting the disc, check it for damage or deformation. If there is no damage, insert the disc again.
The audio systemwill try to play the disc. If there is still a problem, the error message will reappear. Press the eject button, and pull out the disc.
Insert a different disc. If the new disc plays, there is a problem with the first disc. If the error message cycle repeats and you cannot clear it, take your vehicle to a dealer.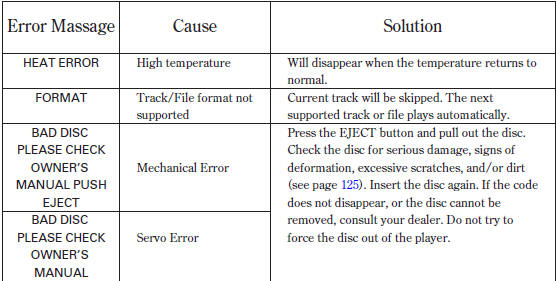 See also:
Tools
Types of Tools The tools were stored in the cargo area. ...
Transmission Side - Release Bearing Removal
Remove the transmission. Remove the release fork boot (A) from the clutch housing (B). Squeeze the release fork set spring (C) with pliers to remove the release ...
HFL Menus
Use HFL when the vehicle's ignition is in the ACCESSORY (I) or ON (II) position. You can operate HFL by voice when on the PHONE screen. Below is the flow chart showing available voice commands ...