Honda Fit: Oil Check
We recommend that you check the engine oil level every time you refuel.
Park the vehicle on level ground.
Wait approximately three minutes after turning the engine off before you check the oil.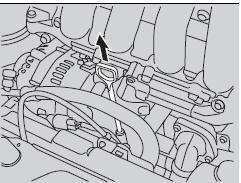 1. Remove the dipstick (orange loop).
2. Wipe the dipstick with a clean cloth or paper towel.
3. Insert the dipstick back all the way into its hole.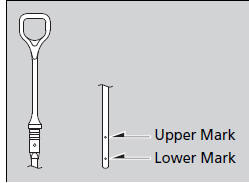 4. Remove the dipstick again, and check the level. It should be between the upper and lower marks. Add oil if necessary.
If the oil level is near or below the lower mark, slowly add oil being careful not to overfill.
See also:
Water Pump Inspection
Remove the right front wheel. Remove the splash shield. Loosen the water pump pulley mounting bolts (A). Remove the drive belt. Remove the ...
Clutch Interlock Switch Replacement (M/T)
M/T model Disconnect the 2P connector (A) from the clutch interlock switch. Loosen the locknut (B), then remove the clutch interlock switch (C). Install the clutch int ...
Wiper Blades
Check the condition of the wiper blades at least every six months. Replace them if you find signs of cracking in the rubber, areas that are getting hard, or if they leave streaks and unwiped areas ...