Honda Fit: Oil Check
We recommend that you check the engine oil level every time you refuel.
Park the vehicle on level ground.
Wait approximately three minutes after turning the engine off before you check the oil.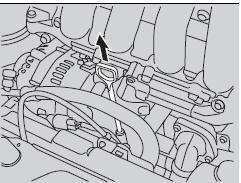 1. Remove the dipstick (orange loop).
2. Wipe the dipstick with a clean cloth or paper towel.
3. Insert the dipstick back all the way into its hole.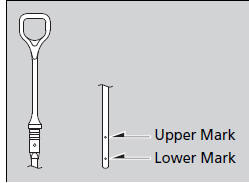 4. Remove the dipstick again, and check the level. It should be between the upper and lower marks. Add oil if necessary.
If the oil level is near or below the lower mark, slowly add oil being careful not to overfill.
See also:
How to Refuel
1. Stop your vehicle with the service station pump on the left side of the vehicle in the rear. 2. Turn off the engine. 3. Press the area indicated by the arrow to release the fuel fill door. Y ...
Valve Body and ATF Strainer Removal (A/T)
Remove the ATF feed pipe (A) from the regulator valve body (B). Remove the ATF feed pipes (C) (D) from the servo body (E). Remove the ATF strainer (F) (two bolts). ...
Refilling Window Washer Fluid
Models without washer level sensor Check the amount of window washer fluid. Look for 1/2 mark on the reservoir. If the level is low, fill the washer reservoir. Models with washer level senso If ...