Honda Fit: Oil Check
We recommend that you check the engine oil level every time you refuel.
Park the vehicle on level ground.
Wait approximately three minutes after turning the engine off before you check the oil.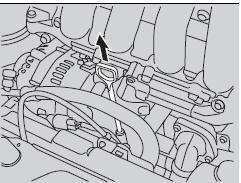 1. Remove the dipstick (orange loop).
2. Wipe the dipstick with a clean cloth or paper towel.
3. Insert the dipstick back all the way into its hole.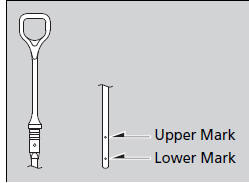 4. Remove the dipstick again, and check the level. It should be between the upper and lower marks. Add oil if necessary.
If the oil level is near or below the lower mark, slowly add oil being careful not to overfill.
See also:
Torque Converter Housing Lubrication Check Valve Replacement (A/T)
Remove the sealing bolt (A) and the sealing washer (B). Remove the lubrication check valve (C) from the torque converter housing (D). Install the lubrication check val ...
Mainshaft Reassembly (M/T)
Exploded View Special Tools Required Driver Handle, 40 mm I.D. 07746-0030100 Bearing Driver Attachment, 30 mm I.D. 07746-0030300 NOTE: Refer to the Exploded Viewas neededduring this proc ...
Service Station Procedures
Refueling 1. Park with the driver's side closest to the service station pump. 2. Outside of the vehicle, open the fuel fill door by pulling its notched edge. 3. Remove the fuel fill cap slowly. ...