Honda Fit: Driving
Manual Transmission
Automatic Transmission
● Shift to P and depress the brake pedal when starting the engine.
Shifting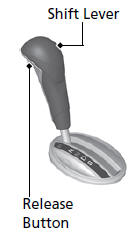 Park

Turn off or start the engine.
Transmission is locked.

Reverse

Used when reversing.

Neutral

Transmission is not locked.

Drive

Normal driving.
On models with paddle shifter, D-paddle shift mode can be used.
Models with paddle shifter

S Position

Sequential shift mode can be used.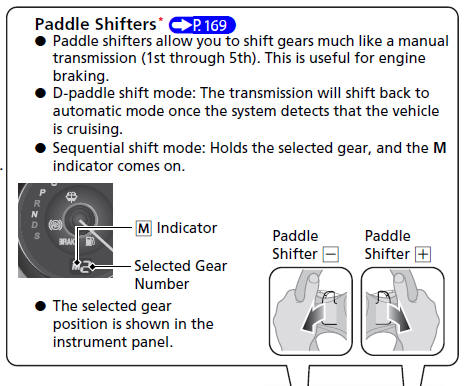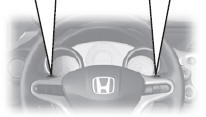 Models without paddle shifter

Drive (D3)

Used when:
•Going up or down hills

Second

Used to increase engine braking (the transmission is locked in 2nd gear)

First

Used to further increase engine braking (the transmission is locked in 1st gear)
VSA® OFF Button
● The vehicle stability assist (VSA®) system helps stabilize the vehicle during cornering, and helps maintain traction while accelerating on loose or slippery road surfaces.
● VSA® comes on automatically every time you start the engine.
● To turn VSA® on or off, press and hold the button until you hear a beep.
Cruise Control*
● Cruise control allows you to maintain a set speed without keeping your foot on the accelerator pedal.
● To use cruise control, press the CRUISE button, then press DECEL/SET once you have achieved the desired speed (above 25 mph or 40 km/h).
Tire Pressure Monitoring System (TPMS)
U.S. models only
● TPMS monitors tire pressure.
● TPMS is turned on automatically every time you start the engine.
Refueling
Fuel recommendation: Unleaded gasoline with a pump octane number 87 or higher required
Fuel tank capacity: 10.6 US gal (40 L)
1 Press on the edge of the fuel fill door to make it pop up slightly.
2 Turn the fuel fill cap slowly to remove the cap.
3 Place the cap in the holder on the fuel fill door.
4 After refueling, screw the cap back on until it clicks at least once.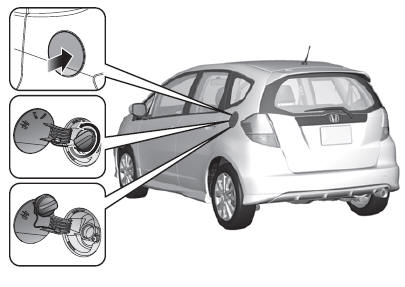 See also:
Audio System Description
Overview The audio-navigation unit or audio unit acts as the processor for all audio functions. To select audio functions, use one of the following inputs: Audio-navigation unit or a ...
Voice Control System
Your vehicle has a voice control system that allows hands-free operation of most of the navigation system functions. You can also control the audio system, and make and receive phone calls using B ...
Alternator Disassembly (Page -3)
Install a new front bearing in the drive-end housing with a hammer, the driver handle, 15 x 135L (A), and the bearing driver attachment, 42 x 47 mm (B). @fo ...