Honda Fit: TPMS (Tire Pressure Monitoring System)
U.S. models only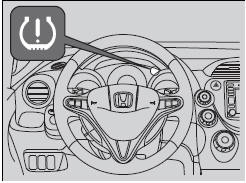 Monitors the tire pressure while you are driving. If your vehicle's tire pressure becomes significantly low, the low tire pressure indicator comes on.
Conditions such as low ambient temperature and altitude change directly affect tire pressure and can trigger the low tire pressure indicator to come on.
Tire pressure checked and inflated in: • Warm weather can become under-inflated in colder weather.
• Cold weather can become over-inflated in warmer weather.
The low tire pressure indicator will not come on as a result of over inflation.
See also:
List of Categories
* Stored in "Fav. Subcategory" by factory default. ...
Remote Transmitter Care
Replacing the Battery If the indicator does not come on when the button is pressed, replace the battery. Battery type: CR1616 1. Unscrew the cover with a small Phillipshead screwdriver. υ ...
Accessories and Modifications
Modifying your vehicle, or installing some non-Honda accessories, can make it unsafe. Before you make any modifications or add any accessories, be sure to read the following information. Accessor ...