Honda Fit: Command Help
For "Command Help" menu items, all voice commands that are available for that system are listed.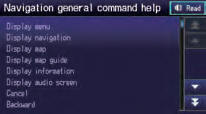 Select Read to hear the commands in the list read aloud.
Voice Commands
See also:
Emissions Testing
Testing of Readiness Codes Your vehicle uses "readiness codes," as part of its onboard self diagnostic system. Some states refer to these codes during testing to see if your vehicle's em ...
Selecting a Destination on the Map
Select a new destination when en route by selecting a location on the map. 1. Scroll the map to position the cursor over your desired destination, adjusting the map scale as necessary. Press the ...
How to Refuel
1. Stop your vehicle with the service station pump on the left side of the vehicle in the rear. 2. Turn off the engine. 3. Press the area indicated by the arrow to release the fuel fill door. Y ...