Honda Fit: Rear License Plate Light Bulb
When replacing, use the following bulb.
Rear License Plate Light: 5 W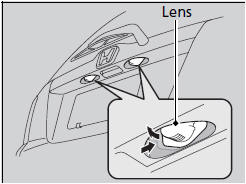 1. Push the lens on the left and pull out the lens and the socket attached to it.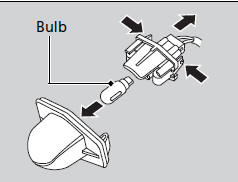 2. Remove the license plate light assembly by squeezing the tabs on both sides of the socket.
3. Remove the old bulb and insert a new bulb.
See also:
Driver's Seat Position Sensor Operation Check
Check the driver's seat position sensor after the driver's seat position sensor replacement. Make sure the driver's seat is all the way forward position. Make sure the ...
Adjusting the Seat Positions
Adjust the driver's seat as far back as possible while allowing you to maintain full control of the vehicle. You should be able to sit upright, well back in the seat and be able to adequately ...
Before Driving
Before you begin driving your vehicle, you should know what gasoline to use and how to check the levels of important fluids. You also need to know how to properly store luggage or packages. The in ...