Honda Fit: Playing an iPod®
Connect the iPod® using your dock connector to the USB adapter cable, then press the AUX button.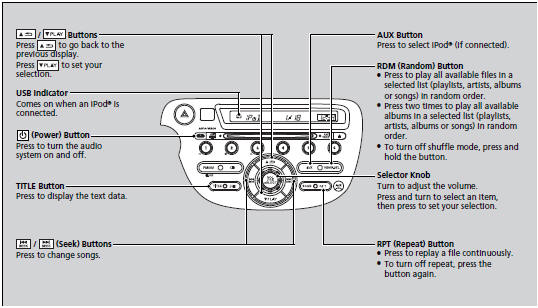 ■How to Select a File from the iPod® Menu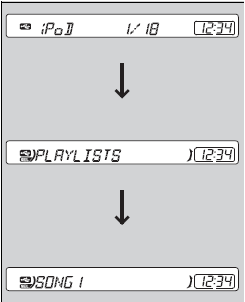 1. Press

to display the iPod®
menu.
2. Rotate

to select a menu.

3. Press
to display the items on
that menu.
4. Rotate
to select an item, then
press

.
Available operating functions vary on models or versions. Some functions may not be available on the vehicle's audio system.
If there is a problem, you may see an error message on the audio display.
See also:
Maximum Load Limit
The maximum load for your vehicle is 850 lbs (385 kg). See Tire and Loading Information label attached to the driver's doorjamb. This figure includes the total weight of all occupants, cargo, ...
Lights
Headlight Aiming The headlights were properly aimed when your vehicle was new. If you regularly carry heavy items in the cargo area, readjustment may be required. Adjustments should be done by yo ...
Seat Belt Inspection
Regularly check the condition of your seat belts as follows: • Pull each belt out fully, and look for frays, cuts, burns, and wear. • Check that the latches work smoothly and the belts retract e ...