Honda Fit: Playing an iPod®
Connect the iPod® using your dock connector to the USB adapter cable, then press the AUX button.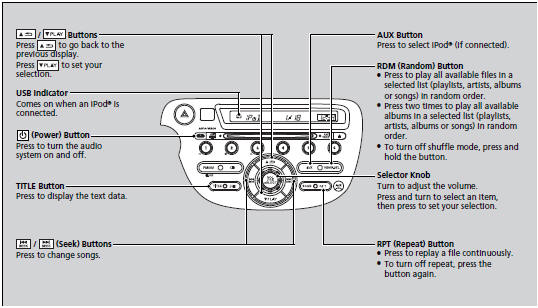 ■How to Select a File from the iPod® Menu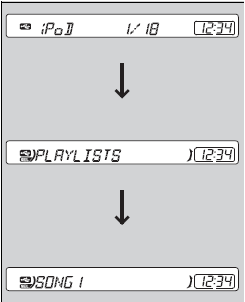 1. Press

to display the iPod®
menu.
2. Rotate

to select a menu.

3. Press
to display the items on
that menu.
4. Rotate
to select an item, then
press

.
Available operating functions vary on models or versions. Some functions may not be available on the vehicle's audio system.
If there is a problem, you may see an error message on the audio display.
See also:
Cruise Control
On Sport model and Canadian LX model Cruise control allows you to maintain a set speed above 25 mph (40 km/h) without keeping your foot on the accelerator pedal. It should be used for cruising on s ...
Removal
Raise and support the vehicle. Remove the rear wheel. Remove the wire guide grommet (A) from both sides of the axle beam. @font-face ...
Lights
Headlight Aiming The headlights were properly aimed when your vehicle was new. If you regularly carry heavy items in the cargo area, readjustment may be required. Adjustments should be done by yo ...