Honda Fit: Playing an iPod®
Connect the iPod® using your dock connector to the USB adapter cable, then press the AUX button.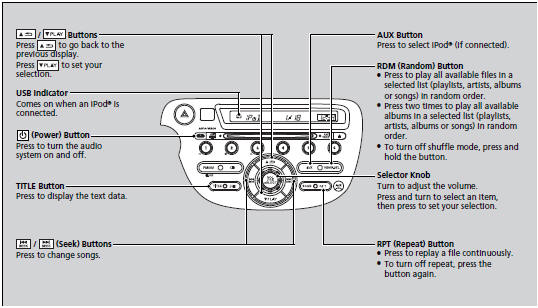 ■How to Select a File from the iPod® Menu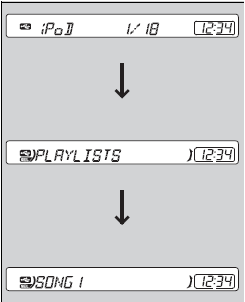 1. Press

to display the iPod®
menu.
2. Rotate

to select a menu.

3. Press
to display the items on
that menu.
4. Rotate
to select an item, then
press

.
Available operating functions vary on models or versions. Some functions may not be available on the vehicle's audio system.
If there is a problem, you may see an error message on the audio display.
See also:
Important Safety Precautions
■ Always wear your seat belt A seat belt is your best protection in all types of collisions. Airbags are designed to supplement seat belts, not replace them. So even though your vehicle is e ...
iPod® Commands
iPod play iPod play track # (#: 1 to 30) iPod skip forward iPod skip back iPod track shuffle* iPod album shuffle* iPod track repeat* iPod normal play (cancels repeat or shuffle * These comman ...
Emblem/Sticker Replacement
NOTE: When removing the emblems/stickers, take care not to scratch the body. To remove the front ёH'' emblem, remove the front grille. To remove the rear ёH'' em ...