Honda Fit: Playing an iPod®
Connect the iPod® using your dock connector to the USB adapter cable, then press the AUX button.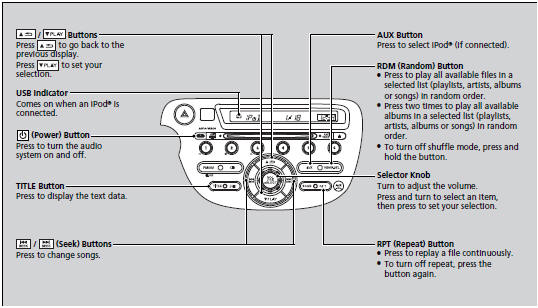 ■How to Select a File from the iPod® Menu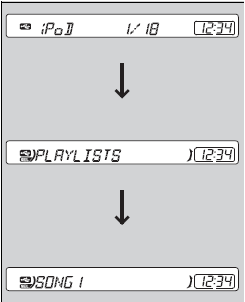 1. Press

to display the iPod®
menu.
2. Rotate

to select a menu.

3. Press
to display the items on
that menu.
4. Rotate
to select an item, then
press

.
Available operating functions vary on models or versions. Some functions may not be available on the vehicle's audio system.
If there is a problem, you may see an error message on the audio display.
See also:
Side Vent
Click here for an interactive version of this procedure (driver's, passenger's). NOTE: Take care not to scratch the dashboard or its related parts. Pull the upper portion (A) of the s ...
Home Addresses
INFO button ► Setup ►Personal Information►Home Address 1 or Home Address 2 Set two home addresses that you frequently use. 1. Edit the name, address, and phone number the s ...
Protecting Adults and Teens
Introduction The following pages provide instructions on how to properly protect the driver, adult passengers, and teenage children who are large enough and mature enough to drive or ride in the ...