Honda Fit: Playing a CD
Your audio system supports audio CDs, CD-Rs, and CD-RWs in either MP3 or WMA format. With the CD loaded, press the CD button.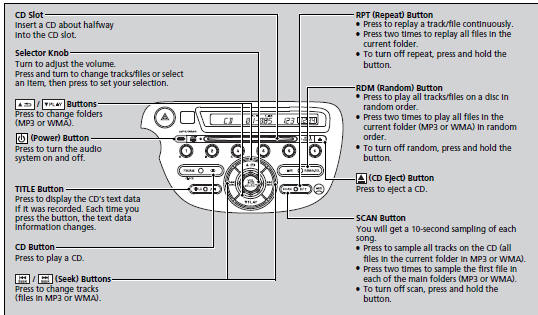 ■How to Select a File from a Folder with the Selector Knob (MP3/WMA)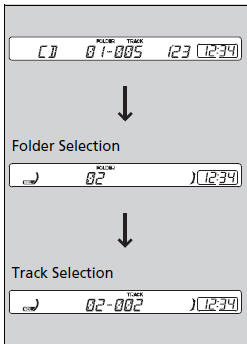 1. Press

to switch the display
to a folder list.
2. Rotate

to select a folder.

3. Press

to change the display to a
list of files in that folder.
4. Rotate

to select a file, then
press

.
NOTICE
Do not use CDs with adhesive labels. The label can cause the CD to jam in the unit.
WMA files protected by digital rights management (DRM) cannot be played.
The audio system displays UNSUPPORTED, then skips to the next file.
Text data appears on the display under the following circumstances:
• When you select a new folder, file, or track.
• When you change the audio mode to CD.
• When you insert a CD.
The display shows up to 31 characters of text data.
Press and hold the TITLE button to see additional characters.

indicates that the text
data continues.
The display goes back to the previous screen if you press and hold the button again.
If you eject the CD but do not remove it from the slot, the system reloads the CD automatically after several seconds.
See also:
Installation
Hold the gearbox housing using a C-clamp (A) and wooden blocks (B) to a workbench as shown. Do not clamp the cylinder part of the gearbox housing in a vise. ...
Intersection
DEST button ►DEST Menu 2►Intersection Select the intersection of two streets as the destination. The state or province for your current location is displayed at the top of the screen ...
Driving
This chapter discusses driving, refueling, and information on items such as accessories. ...