Electronic Throttle Control System
The throttle is electronically controlled by the electronic throttle control system (ETCS). Refer to the system diagram to see a functional layout of the system.
Idle control: When the engine is idling, the ECM/PCM controls the throttle actuator to maintain the proper idle speed according to engine loads.
Acceleration control: When the accelerator pedal is pressed, the ECM/PCM opens the throttle valve depending on the accelerator pedal position (APP) sensor signal.
Cruise control: The ECM/PCM controls the throttle actuator to maintain the set speed when cruise control is operating. The throttle actuator takes the place of the cruise control actuator.
Accelerator Pedal Position (APP) Sensor
As the accelerator pedal position changes, the sensor varies the signal voltage to the ECM/PCM which then controls the throttle position.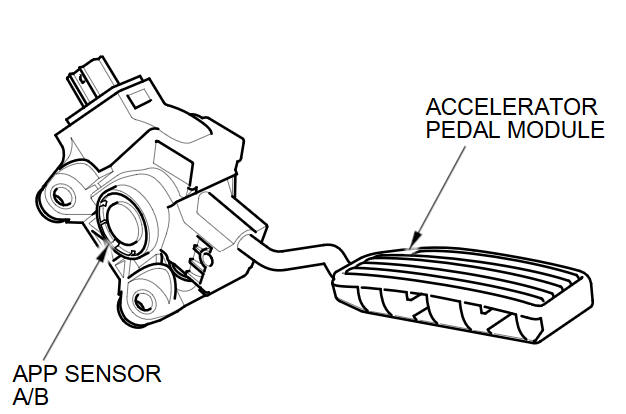 Throttle Body
The throttle body is a single-barrel side draft type. To prevent icing of the throttle plate, the lower portion of the throttle valve is heated by engine coolant from the cylinder head.
Electronic Throttle Control System Diagram
The electronic throttle control system consists of the throttle actuator, TP sensor A/B, the APP sensor A/B, the ETCS control relay, and the ECM/PCM.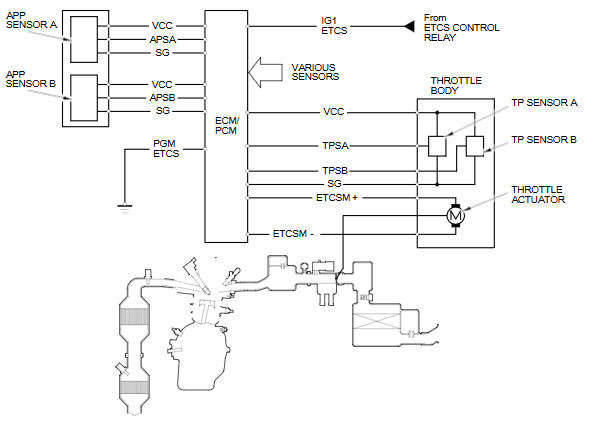 See also:
Carpet Replacement
Special Tools Required KTC Trim Tool Set SOJATP2014 *Available through the Honda Tool and Equipment Program; call 888-424-6857 SRS components are located in this area. Review the SRS c ...
Color
INFO button ► Setup ►Other ►Color Choose the color of the navigation map and system menus. Select an item. The following items are available: • Map: Sets the color of the ...
Center Vent
NOTE: Take care not to scratch the dashboard or its related parts. Remove these items: Audio unit, without navigation system ('9-11 models) Audio unit, with ...