Honda Fit: Engine Compression Inspection
NOTE: After the inspection, you must reset the ECM/PCM. Otherwise, the ECM/PCM will continue to stop the injectors from operating.
Allow the engine to reach operating temperature (fan comes on at least twice).
Turn the ignition switch to LOCK (0).
Connect the HDS to the DLC.
Turn the ignition switch to ON (II).
Make sure the HDS communicates with the vehicle and the ECM/PCM. If it does not communicate, troubleshoot the DLC circuit.
Select ALL INJECTORS STOP in the PGM-FI INSPECTION menu with the HDS.
Turn the ignition switch to LOCK (0).
Remove the four ignition coils and the four spark plugs.
Attach the compression gauge to the spark plug hole.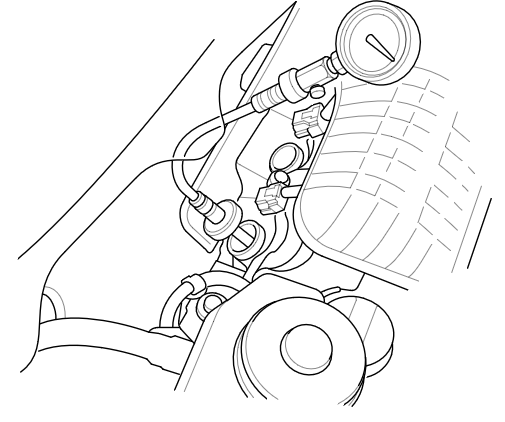 Step on the accelerator pedal to open the throttle fully, then crank the engine with the starter motor, and measure the compression.

Compression Pressure

Above 981 kPa (10.00 kgf/cm2, 142.2 psi)
Measure the compression on the remaining cylinders.

Maximum Variation

Within 196 kPa (2.00 kgf/cm2, 28.4 psi)
If the compression is not within specifications, perform a cylinder leak down test to determine the problem area. Then check the following items, and remeasure the compression:

Incorrect valve clearance

Confirmation of cam timing

Damaged or worn cam lobes

Damaged or worn valves and seats

Damaged cylinder head gasket

Damaged or worn piston rings

Damaged or worn piston and cylinder bore
Remove the compression gauge from the spark plug hole.
Install the four spark plugs and the four ignition coils.
Select ECM/PCM reset in the PGM-FI INSPECTION menu to cancel ALL INJECTORS STOP with the HDS.
See also:
Intermediate Shaft Removal (A/T)
Drain the transmission fluid. Reinstall the drain plug with a new sealing washer. Remove the right driveshaft. Remove the shift cable cover (A). Re ...
Fuse Access Panel Removal/Installation
NOTE: Take care not to scratch the dashboard or its related parts. Do not pry on the panel surface with any tools. Pull the fuse access panel (A) back by hand to release the ...
Brake/Clutch Fluid
Specified fluid: Honda Heavy Duty Brake Fluid DOT 3 Use the same fluid for both the brakes and clutch. NOTICE Brake fluid marked DOT 5 is not compatible with your vehicle's braking system and ca ...