Honda Fit: Brake Light, Taillight, Back-Up Light and Rear Turn Signal Light Bulbs
When replacing, use the following bulbs.
Brake/Taillight: 21/5 W Back-Up Light: 16 W
Rear Turn Signal Light: 21 W (Amber)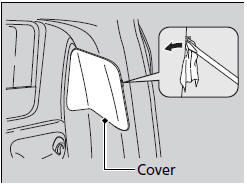 1. Pry on the edge of the cover using a flat-tip screwdriver to remove the cover.
► Wrap the flat-tip screwdriver with a cloth to prevent scratches.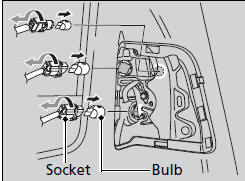 2. Turn the socket to the left and remove it.
Remove the old bulb.
3. Insert a new bulb.
See also:
Find Place Commands
Find nearest (specify place): Auto service center ACURA dealers HONDA dealers Gas station Hydrogen station Auto parts & electronics shop Auto repair & maintenance shop Car wash & d ...
A/C System Charging (With A/C)
caution Air conditioning refrigerant or lubricant vapor can irritate your eyes, nose, or throat. Be careful when connecting service equipment. ...
Viewing the Route
Map Screen After calculating the route to your destination, the route is displayed on the map screen. As you drive, the system tracks your position on the map in real time and provides guida ...