Honda Fit: Brake Light, Taillight, Back-Up Light and Rear Turn Signal Light Bulbs
When replacing, use the following bulbs.
Brake/Taillight: 21/5 W Back-Up Light: 16 W
Rear Turn Signal Light: 21 W (Amber)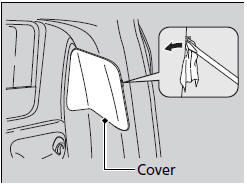 1. Pry on the edge of the cover using a flat-tip screwdriver to remove the cover.
► Wrap the flat-tip screwdriver with a cloth to prevent scratches.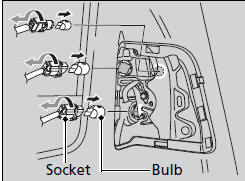 2. Turn the socket to the left and remove it.
Remove the old bulb.
3. Insert a new bulb.
See also:
Removal
Raise and support the vehicle. Remove the rear wheel. Remove the wire guide grommet (A) from both sides of the axle beam. @font-face ...
Installation
Install the damper rubber mount (A) onto the damper unit. Position the damper assembly (B) between the body and the axle beam. NOTE: Be careful not to damage the body. ...
Emissions Controls
The burning of gasoline in your vehicle's engine produces several byproducts. Some of these are carbon monoxide (CO), oxides of nitrogen (NOx), and hydrocarbons (HC). Gasoline evaporating from t ...