Honda Fit: Brake Light, Taillight, Back-Up Light and Rear Turn Signal Light Bulbs
When replacing, use the following bulbs.
Brake/Taillight: 21/5 W Back-Up Light: 16 W
Rear Turn Signal Light: 21 W (Amber)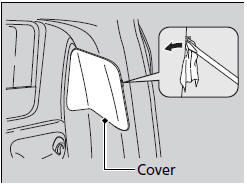 1. Pry on the edge of the cover using a flat-tip screwdriver to remove the cover.
► Wrap the flat-tip screwdriver with a cloth to prevent scratches.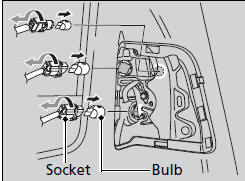 2. Turn the socket to the left and remove it.
Remove the old bulb.
3. Insert a new bulb.
See also:
Display and Volume Settings
INFO button ► Setup Use the Main Setup screen to adjust the display and volume. Select or to adjust the desired item. The following items are available: • Brightness: Adjusts the s ...
Showing Icons on the Map
MAP MENU (on map) ►Show icon on Map The icon bar along the bottom of the screen allows you to select the icons that are displayed on the map. Select an icon in the icon bar. ► Se ...
Connecting Rod and Crankshaft End Play Inspection
Remove the oil pump. Measure the connecting rod end play with a feeler gauge (A) between the connecting rod (B) and the crankshaft (C). Connecting Rod End Play ...