Honda Fit: Brake Light, Taillight, Back-Up Light and Rear Turn Signal Light Bulbs
When replacing, use the following bulbs.
Brake/Taillight: 21/5 W Back-Up Light: 16 W
Rear Turn Signal Light: 21 W (Amber)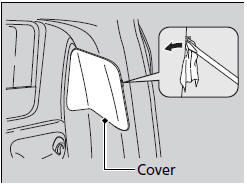 1. Pry on the edge of the cover using a flat-tip screwdriver to remove the cover.
► Wrap the flat-tip screwdriver with a cloth to prevent scratches.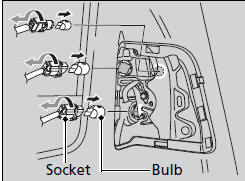 2. Turn the socket to the left and remove it.
Remove the old bulb.
3. Insert a new bulb.
See also:
Auxiliary Input Jack
Use the jack in the console compartment to connect standard audio devices. 1. Open the AUX cover. 2. Connect a standard audio device to the input jack using a 1/8 inch/3.5 mm stereo miniplug. & ...
Fuel Economy
Actual Mileage and EPA Fuel Economy Estimates Comparison. Fuel economy is not a fixed number. It varies based on driving conditions, driving habits and vehicle condition. Therefore, it is not possi ...
Showing Icons on the Map
MAP MENU (on map) ►Show icon on Map The icon bar along the bottom of the screen allows you to select the icons that are displayed on the map. Select an icon in the icon bar. ► Se ...