Honda Fit: Brake Light, Taillight, Back-Up Light and Rear Turn Signal Light Bulbs
When replacing, use the following bulbs.
Brake/Taillight: 21/5 W Back-Up Light: 16 W
Rear Turn Signal Light: 21 W (Amber)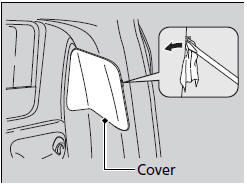 1. Pry on the edge of the cover using a flat-tip screwdriver to remove the cover.
► Wrap the flat-tip screwdriver with a cloth to prevent scratches.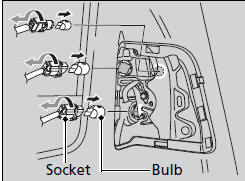 2. Turn the socket to the left and remove it.
Remove the old bulb.
3. Insert a new bulb.
See also:
Honda Fit 2007-2020 Navigation Online Reference Manual
The information and specifications included in this publication were in effect at the time of approval for printing. Honda Motor Co., Ltd., reserves the right, however, to discontinue or change s ...
Power Windows
Turn the ignition switch to the ON (II) position to raise or lower any window. To open the window, push the switch down and hold it. Release the switch when you want to stop the window. To close ...
Alternator Disassembly (Page -3)
Install a new front bearing in the drive-end housing with a hammer, the driver handle, 15 x 135L (A), and the bearing driver attachment, 42 x 47 mm (B). @fo ...