Honda Fit: Interior Care
Use a damp cloth with a mixture of mild detergent and warm water to remove dirt.
Use a clean cloth to remove detergent residue.
Do not spill liquids inside the vehicle.
Electrical devices and systems may malfunction if liquids are splashed on them.
Do not use silicone based sprays on electrical devices such as audio devices and switches.
Doing so may cause the items to malfunction or a fire inside the vehicle.
If a silicone based spray is inadvertently used on electrical devices, consult a dealer.
Depending on their composition, chemicals and liquid aromatics may cause discoloration, wrinkles, and cracking to resin-based parts and textiles.
Do not use alkali solvents or organic solvents such as benzene or gasoline.
After using chemicals, make sure to gently wipe them off using a dry cloth.
Do not place used cloths on top of resin based parts or textiles for long periods of time without washing.
Cleaning Seat Belts
Use a soft brush with a mixture of mild soap and warm water to clean the seat belts.
Let the belts air dry. Wipe the loop of the seat belt anchors using a clean cloth.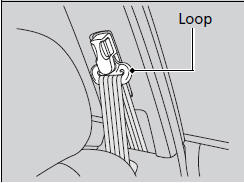 Floor Mats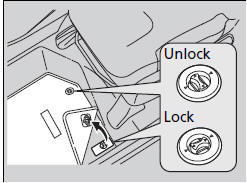 The driver's floor mat hooks over the floor anchors, which keep the mat from sliding forward. To remove a mat for cleaning, turn the anchor knobs to the unlock position.
When reinstalling the mat after cleaning, turn the knobs to the lock position.
Do not put additional floor mats on top of the anchored mat.
If you use any floor mats that were not originally provided with your vehicle, make sure they are designed for your specific vehicle, fit correctly, and are securely anchored by the floor anchors.
Position the rear seat floor mats properly. If they are not properly positioned, the floor mats can interfere with the front seat functions.
See also:
EPS Control Unit Removal/Installation
Do the battery terminal disconnection procedure. Remove the under-dash fuse/relay box. Disconnect EPS control unit connector A (11P) and connector B (16P) by pus ...
Clutch Hose Replacement (M/T)
NOTE: Replace the clutch hose if it is twisted or cracked, or if it leaks. Use fender covers to avoid damaging painted surfaces. Do not spill brake fluid on the vehicle; it may ...
If the Engine Won't Start
Diagnosing why the engine won't start falls into two areas, depending on what you hear when you turn the ignition switch to the START (III) position: • You hear nothing, or almost nothing. The ...