Honda Fit: Brightness Control
When the parking lights are turned on and the ignition switch is in ON

, you can
use the

(select/reset) knob to adjust
instrument panel brightness.
Brighten
: Turn the knob to the right.
Dim
: Turn the knob to the left.
You will hear a beep when the brightness reaches minimum or maximum. The information display will return to its original state several seconds after you adjust the brightness.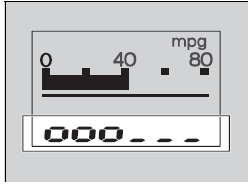 ■ Brightness level indicator
The brightness level is shown on the information display while you are adjusting it.
Pressing the

knob switches the
display.
If you turn the knob to the right until the brightness display is up to max, the beeper sounds. This cancels the reduced instrument panel brightness when the exterior lights are on.
The brightness can be set differently for when the exterior lights are on, and when they are off.
See also:
Gauges
Gauges include the speedometer, tachometer, fuel gauge, and related indicators. They are displayed when the ignition switch is in ON . ■Speedometer Displays your driving speed in mph (U. ...
Air Cleaner Removal/Installation
Disconnect the MAF sensor/IAT sensor connector(A), then remove the air cleaner cover (B) and the air cleaner element (C). NOTE: Be careful not to damage the MAF sensor/IAT sensor on the air ...
Transmission End Cover Air Check Valve Inspection and Replacement (A/T)
NOTE: There are two types of the transmission end cover; the type A and the type B; and both types are available. The differences between the types A and B of the end covers are: ...