Honda Fit: Map Coverage
The navigation system provides map coverage for the contiguous United States, Alaska, Hawaii, Canada, and Puerto Rico.
The map coverage consists of accurately mapped (verified) metropolitan areas and a less accurate (unverified) rural database.
Note that unverified areas are constantly being reviewed and converted to verified areas each year.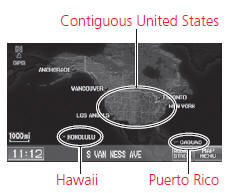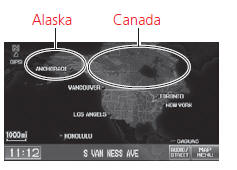 Map coverage update information is available from Honda Automobile Customer Service or online at www.hondanavi.com.
To find navigation system update information:
1. Visit www.hondanavi.com.
2. Enter your vehicle model and model year.
3. Click Map Coverage to display a list of verified coverage areas on the most recent update.
4. Click Map Coverage Details to display a PDF document with a full listing of all coverage areas.
► Adobe® Reader® is required for viewing and printing the Portable Document Format (PDF) documents.
To download the latest version of Adobe Reader, visit http:// get.adobe.com/reader/.
See also:
Exterior Care
Dust off the vehicle body after you drive. Regularly inspect your vehicle for scratches on painted surfaces. A scratch on a painted surface can result in body rust. If you find a scratch, promptly ...
List of Categories
* Stored in "Fav. Subcategory" by factory default. ...
Wiper Arm Replacement
NOTE: Set the wiper arms to the auto-stop position before removal and installation. Windshield NOTE: Always pull up the driver's side wiper blade first. Remove the caps, the nuts, and t ...