Honda Fit: Map Coverage
The navigation system provides map coverage for the contiguous United States, Alaska, Hawaii, Canada, and Puerto Rico.
The map coverage consists of accurately mapped (verified) metropolitan areas and a less accurate (unverified) rural database.
Note that unverified areas are constantly being reviewed and converted to verified areas each year.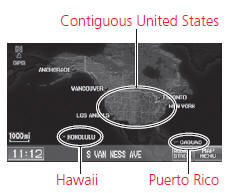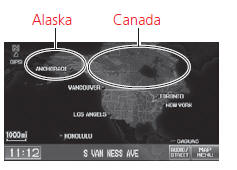 Map coverage update information is available from Honda Automobile Customer Service or online at www.hondanavi.com.
To find navigation system update information:
1. Visit www.hondanavi.com.
2. Enter your vehicle model and model year.
3. Click Map Coverage to display a list of verified coverage areas on the most recent update.
4. Click Map Coverage Details to display a PDF document with a full listing of all coverage areas.
► Adobe® Reader® is required for viewing and printing the Portable Document Format (PDF) documents.
To download the latest version of Adobe Reader, visit http:// get.adobe.com/reader/.
See also:
Torque Converter Housing Selector Control Shaft Oil Seal Replacement (A/T)
Special Tools Required Driver Handle, 15 x 135L 07749-0010000 Oil Seal Driver Attachment 07947-ZV00100 Remove the oil seal from the torque converter housing. Install the n ...
Powertrain
...
Towing
If the vehicle needs to be towed, call a professional towing service. Never tow the vehicle behind another vehicle with just a rope or chain. It is very dangerous. Emergency Towing -There are thr ...