Honda Fit: Map Coverage
The navigation system provides map coverage for the contiguous United States, Alaska, Hawaii, Canada, and Puerto Rico.
The map coverage consists of accurately mapped (verified) metropolitan areas and a less accurate (unverified) rural database.
Note that unverified areas are constantly being reviewed and converted to verified areas each year.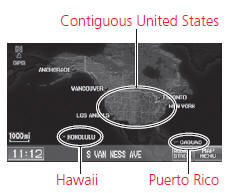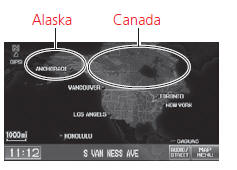 Map coverage update information is available from Honda Automobile Customer Service or online at www.hondanavi.com.
To find navigation system update information:
1. Visit www.hondanavi.com.
2. Enter your vehicle model and model year.
3. Click Map Coverage to display a list of verified coverage areas on the most recent update.
4. Click Map Coverage Details to display a PDF document with a full listing of all coverage areas.
► Adobe® Reader® is required for viewing and printing the Portable Document Format (PDF) documents.
To download the latest version of Adobe Reader, visit http:// get.adobe.com/reader/.
See also:
If the Charging System Indicator Comes On
■ Reasons for the indicator to come on Comes on when the battery is not being charged. ■ What to do when the indicator comes on Turn off the heating and cooling* system, rear defogg ...
Inspection
Install the flange nut on the damper shaft end, and set the socket wrench and T-handle on the nut. Compress the damper assembly by hand, and check for smooth operation through ...
Lower Front Bumper Grille Cover Replacement
Canada Models Without Front Fog Lights NOTE: Put on gloves to protect your hands. Take care not to scratch the front bumper. Remove the front bumper. Remove ...