Honda Fit: Receiving a Call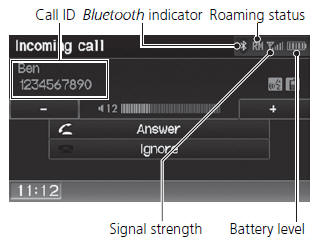 1. Press the
(Pick-Up) button
to answer a call and display the Calling screen.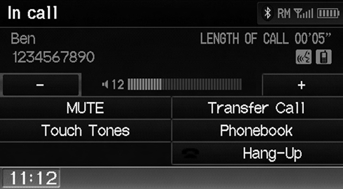 2. Press the
(Hang-Up) button
to terminate the call.
The following options are available during a call:
• MUTE
: Allows you to mute your voice.
• Touch
Tones (available on some phones):
Allows you to send numbers or names during a call. This is useful when you call an automated phone system.
• Transfer Call
: Allows you to transfer a call from HFL to your phone, or from your phone to HFL.
An incoming call notification appears on the navigation screen, and you hear an audible ring tone.
If your phone has Call Waiting, press the

button to put the original call on hold and answer the incoming call. To return to the original call, press the
button
again. If you want to hang up the original call and answer the new call, press the
button.
To change the volume level of HFL, use the audio system volume knob or the steering wheel volume controls.
Some phones may send battery, signal strength, and roaming status information to the screen.
Phonebook

Displays the cell phone's imported phonebook.
See also:
Cylinder Head Inspection for Warpage
Remove the cylinder head. Inspect the camshaft. Check the cylinder head for warpage. Measure along the edges, and three ways across the center: If wa ...
Fog Light Bulbs
When replacing, use the following bulbs. Fog Light: 55 W (H11) 1. Pry on the edge of the cover using a flat-tip screwdriver to remove the cover. ► Wrap the flat-tip screwdriver with a cl ...
Transmission End Cover Removal (A/T)
Special Tools Required Mainshaft Holder 07GAB-PF50101 Remove the bolts securing the ATF inlet line (D) and ATF filter holder (E), the line bolt and sealing washers, and remove the ATF in ...